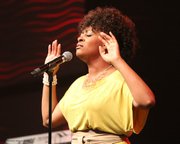 By JEFFARAH GIBSON
Tribune Features Writer
jgibson@tribunemedia.net
ALTHOUGH hip hop music tends to get a bad rap, the genre was used to promote all that is good and positive during the Holy Hip Hop show held last week.
The event was part of Radio One's "One Love Gospel Getaway", which brought stars of the gospel world to the Bahamas for just one weekend.
Scores of people flew to the Bahamas just to experience the series of events, which included the Holy Hip Hop Show, where artists such as Lecrae, Canton Jones and Andy Mineo shared their testimonies through their music. 
According to talent coordinator for "One
Love Getaway" Jerry Smith, the event was a powerful experience which left people feeling rejuvenated and restored.
"This was actually our very first hip hop show and I think that hip hop music has impacted this format greatly. I think a lot of our youth loves that genre of music. And we thought for our very first show as part of the
"One Love Getaway" that we would have the top gospel hip hop artists," said Mr Smith.
During the show hip hop music was used to encourage and promote, instead of breakdown and degrade.
"There was a lot of energy and powerful ministry. They shared their testimony in a way that youth could relate to and understand and it was really powerful. There was some restoration, some rejuvenation and that was one of the main reasons why we decided to host the hip hop show.
"I just think when we were children we did not really care for the music that our parents listened to. Hip hop music is part of the culture and the youth really loves that kind of music. It is great to have hip hop music talking about God, salvation and uplifting our youth in a manner and style that they like," he said.
Lecrae is a Christian hip hop artist, ministry leader, entrepreneur, record producer and actor. He has a popular following on the island. "His ministry is very powerful," Mr Smith said.
"Canton Jones is also well known to a lot of youths. He is more like a new guy on the scene. Andy Mineo is also very popular. In fact he topped the Billboard charts in CD sales and one week he sold 80 units. All of them are phenomenal artists and their music focuses on inspiring," he said.
Radio One is touted as the premier and largest gospel event because it brings together the most noted personalities from that entertainment world for an uplifting experience.
Artists who came to the Bahamas for the event included Mary Mary, Shirley Caesar, Rance Allen Group, Vashawn Mitchell, Kurt Carr, Donnie McClurkin, Tamela Mann, Isaac Carree and the Mighty Clouds of Joy, amongst others.
The One Love Gospel Getaway was the brainchild of Cathy Hughes, the first African American woman to head a publicly traded company in the US. Her Washington, DC based Radio One has 53 stations in 16 urban markets.
The One Love Gospel Getaway originally started as a cruise but ten years ago, one of those cruises over-nighted in the Bahamas. Hughes was able to orchestrate a concert on the island. This year, Hughes decide to make the event an on-land affair in the Bahamas.