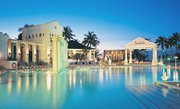 By RASHAD ROLLE
THE management of Sandals Royal Bahamian is urging members of the Bahamas Maintenance and Allied Workers Union to "act responsibly" after the union opted for a strike vote ahead of a meeting between the two parties.
The two parties are expected to meet at the Ministry of Labour while the Court of Appeal continues to work on an issue relevant to both.
A press statement from the resort's management team said: "We are unaware of any significant issues that warrant such an action ahead of a schedule meeting at the Ministry of Labour and prior to a decision being handed down by the Court of Appeal. Any action by the union while proceedings are pending in the court of appeal shall be illegal and in breach of Section 77 of the Industrial Relations Act."
The press statement also said: "The union is aware of the court action that is now at the appellate level, as they were served by the company's attorneys, and the hotel is aware that the maintenance union would like to negotiate on an industrial agreement. The hotel was apprised of impending action by the union by letter on Monday afternoon.
"Sandals is a responsible employer that abides by the laws of the Bahamas. We take our relationship with our valued employees very seriously and do not want any illegal industrial action directed by the union to jeopardise their employment. Therefore, Sandals wishes to remind its employees to act responsibly."