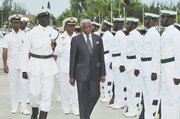 AFTER 16 weeks of intensive training at the Coral Harbour Base, the Royal Bahamas Defence Force officially welcomed 74 men and women into the military organisation.

At the passing-out parade ceremony for the combined squad of 'New Entry 50 and Woman Entry 20', the 49 men and 25 women successfully completed the requirements for a Defence Force Marine.

This latest group represented the largest ever in the history of the Defence Force to successfully complete New Entry training.
Lady Marguerite Pindling, widow of the first Prime Minister of The Bahamas, Sir Lynden Pindling, was a guest at the ceremony.

In front of numerous friends, families and well-wishers, the recruits displayed crisp and precise parade drills against thunderous applause.
The Minister with responsibility for the Defence Force, Dr Bernard Nottage, inspected the parade and delivered the keynote address.

After congratulating the new marines, he reminded them all that their duties have just begun, as plans were underway for the acquisition for additional vessels to help combat illegal drugs, poachers and migrants.
"The government is currently in negotiations with Damen Shipyards, that is based in the Netherlands, for the acquisition of eight medium to long-range patrol vessels over the next three years with the first vessels scheduled to arrive by mid-2014," he said.
"This acquisition will also include an auxiliary vessel to provide timely transport of emergency supplies to disaster-stricken areas around our archipelago, and the development of new and existing bases and harbour facilities at Coral Harbour, Matthew Town, Gin Point, Ragged Island and in the Northern Bahamas."
Twenty-year-old Tevin Williams, a 2009 graduate of CV Bethel Senior High School was awarded the overall Best Male Recruit, and twenty-year-old Samantha Paul, also a 2010 graduate of the CV Bethel Senior High School was overall Best Female Recruit.
The programme covered a curriculum of sixteen disciplines that included professional subjects such as navigation, seamanship, small arms, first aid, firefighting and communications.

Academic subjects included maths and English. The rigorous 'Swedish' physical fitness training programme and swimming made up the bulk of the fitness regime.