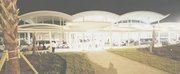 By DANA SMITH
Tribune Staff Reporter
dsmith@tribunemedia.net
DEPARTING passengers at Lynden Pindling International Airport experienced significant delays yesterday morning after a major power failure at the US departures terminal held up ten flights - in one instance, for more than two hours.
According to the Nassau Airport Development company, the hour-long power outage disrupted LPIA's electronic check-in and baggage handling services, delaying the morning flights and forcing employees to process passengers manually.
In a statement, NAD said the outage occurred as a result of a electrical breaker failure after "preventative maintenance" on the airport's electrical systems.
NAD says the airport's contractor, General Electric, started service on LPIA's electric systems on Wednesday and the second phase began early yesterday with BEC on site to disconnect power.
"All of the generators started and produced power, however the US terminal electrical breaker serviced by GE yesterday experienced significant failure," NAD said.
"As a result, the electrical supply including the lighting, at the US Departures terminal was disrupted shortly after 6am on Thursday. This prevented US-bound passengers from being checked-in and processed as normal."
Power was restored at approximately 7.30am but the airport's IT network was compromised - affecting electronic check-in and the baggage handling system.
"As such, the US carriers had to perform manual passenger check-ins," NAD said.
"At approximately 10.25am, the airport IT system was restored allowing normal check-in with the exception of the baggage handling system which is still off-line but expected to return to normal operations very shortly."
Communications Manager Shonalee Johnson said she could not speculate on how many passengers were affected by the delay but ten flights were delayed. Flight providers included American Airlines, Bahamasair, Delta, and Jet Blue.
The average delay was an hour, Ms Johnson said, with the minimum delay being 30 minutes and the maximum being two-and-a-half hours.
NAD said it is "working closely" with General Electric to determine precisely what caused the power failure in an effort to avoid future, similar instances.
For its part, BEC released a statement maintaining that "it is not responsible for the reported 'power failure'" at LPIA.
BEC said the temporary loss of power was due to "a failure of equipment owned and operated by NAD."
A statement said: "At 6.15am on Thursday, LPIA was taken off BEC's electrical grid.
"During this time, back-up generation was used to maintain electricity supply for LPIA. Unfortunately NAD experienced difficulty in providing electricity supple to the facility, resulting in a period of power loss."
At NAD's request, BEC says, the electric company restored electricity at 7.22am.