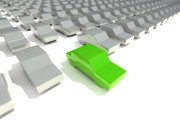 By NEIL HARTNELL
Tribune Business Editor
nhartnell@tribunemedia.net
A Freeport company is in talks with electric car and modular home firms to further expand its light manufacturing capabilities, with its workforce "potentially doubling" by year's end.
Robert Myers told Tribune Business that his VTrade Company's existing energy efficient light bulb manufacturing business could "triple in size" within a year, having launched this line just one month ago.
Keeping the faith in Freeport and VTrade's business model, Mr Myers said he hoped the company would achieve profitability by mid-2013 - something that would create the foundation to expand its premises.
And, articulating the 'value-added' trade strategy recently announced by Ryan Pinder, minister of financial services, Mr Myers said VTrade's "strongest opportunity" lay in the export possibilities created by the Economic Partnership Agreement (EPA) and other trade deals.
"We're almost profitable, and hopefully by mid-year there'll be some things falling into place, and we'll then look at whether to expand or not," Mr Myers told Tribune Business.
VTrade is based at the 86,000 square feet former Associated Grocers warehouse, located in Freeport's Sea/Air Business Centre. It has some 240,000 square feet available for expansion when the timing is right.
The company has just added light manufacturing as the third element to its business, following its hardware products distribution business and third party logistics arm.
"We're building energy efficient lights and shipping them to the Americas," Mr Myers told Tribune Business. "We're putting together bulbs and lamps, and doing some coating and things like that. We're shipping them to the US, and Europe as well for testing as well.
"We literally are in our second month of that. Thirty days in, we're getting the kinks out. It's small initially, but there are large opportunities. We've got some interest.
"I would think, if that [light bulbs] goes well, we could potentially triple the size of that business in a year. And if we triple the size of that business, we could probably have 16-20 people working in that sector alone. There is a lot of opportunity to add value."
VTrade currently employs 15-16 staff, with four working in manufacturing. "We can see that potentially doubling by the end of the year, and if that happens we're talking about adding on," Mr Myers said, in terms of increasing the company's space.
"We're really looking to expand into more manufacturing and distribution. We're talking to a couple more companies, an electric car company and a maker of highly insulated modular homes. We need to add more value than distribution."
Mr Myers said he was pleased with VTrade's hardware product sales in the Bahamas, but those in the Caribbean were below expectations. "The rest of the Caribbean is worse than we are," he added. "We think we've got it bad; they've got it worse."
The third party logistics business, where VTrade "picks, packs and ships" product on behalf of others, accounts for a "growing" 25 per cent share of its business.
Mr Myers said the strategy was for light manufacturing, hardware product distribution and third party logistics to each account for a 25 per cent share of VTrade's business, with another final quarter to come from another business.
"We believe in the model. It's a matter of working through these little impediments to commerce," Mr Myers told Tribune Business. "Our real growth is going to come from the manufacturing, and what the EPA agreement provides us.
"That's where the strongest opportunity is. If we can add value to a product in the Bahamas, we can derive a competitive advantage in exporting it to Europe and the Caribbean.
"That provides us with a real opportunity, but finding the right products is a challenge. We're shaking the tree as hard as we can."