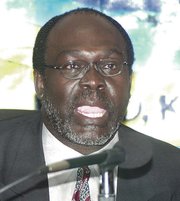 By AVA TURNQUEST
Tribune Staff Reporter
aturnquest@tribunemedia.net
UNIONISED Sandals Royal Bahamian employees await a strike certificate after more than 200 workers voted for industrial action at the resort.
Trade Union Congress (TUC) president Obie Ferguson yesterday said that 267 employees participated in the unanimous vote administered by the Department of Labour last week.
Mr Ferguson, also a labour attorney and lead negotiator for the Bahamas Hotel, Maintenance and Allied Workers Union (BHMAWU), said: "There was one spoiled vote, but not one person voted against the strike. There were 266 valid yes votes. I don't know what else one can expect in a situation like that. You can't say the [BHMAWU] doesn't have the support."
"To strike is not the first consideration, but if you put yourself in the position of the people who have been struggling from 2006, we've been before Justices Hall, Adderley from the Court of Appeal, all the way to the Privy Council and then back in front of Justice Michael Barnett."
He added: "What is it that we need to do to cause this company to sit down and negotiate? It appears that they're inviting the union to strike, they're challenging us but we're going to do it the right way."
The BHMAWU is comprised of some 500 of the resort's non-managerial staff, according to Mr Ferguson, who explained that the union has been lobbying to negotiate an industrial agreement with Sandals management for more than a year.
In a statement on Tuesday, Sandals Royal Bahamian's management said it was surprised to learn that the BHMAWU had opted for a strike vote ahead of a meeting between the two parties and also knowing that a matter is still before the Court of Appeal.
Sandals said it takes its relationship with its employees seriously and did not want any illegal industrial action directed by the union to jeopardise their employment.
Yesterday, Mr Ferguson maintained that there was no matter before the courts. He said that Sandals has applied for leave to make an application to the Court of Appeal, but there has been no court date set for the initial application.
Mr Ferguson said: "We tried. This matter has been going on from 2006 and this is 2013. Sandals obviously doesn't want a union but it's the workers choice. The workers decide that they want this union and they've been supporting it since 2006. People have the right to make associations."
He added: "We are waiting on the certificate from the ministry giving us the official results and after that it's open to the workers to strike unless of course there is some resolution of matter."
More like this story