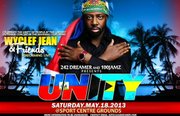 LESH
Tribune Features Reporter
acadet@tribunemedia.net
GRAMMY award winning international recording artist Wyclef Jean is set to headline the Unity Fest concert on Saturday at the Sports Centre grounds.
Event promoters 242 Dreamer are expecting the event to be the largest outdoor event to be held at the venue for 2013.
Bahamian performers M Deez, Visage, D Mac, the Illest, Rapp Quelle, Julien Believe, Puzzle and others are also expected to hit the stage during the show.
"With Unity Fest, the name says it all. It is a festival to unify everybody here in the Bahamas: Haitians, Bahamians, Jamaicans, Mexicans, and whatever your nationality is. We just want to celebrate unity. Attendees can look forward to their expectations being met, I can guarantee that. You know what Visage is bringing to the table; we know what D Mac, M Deez and of course Wyclef is bringing to the table," said Louby Georges, event promoter and host of "The Diaspora Conversation", a local television show.

"My television show is all about the Haitian community and the Bahamas, because it is all about unifying as well. It is the only bilingual television show in the Bahamas as it is. We are revolutionising this whole TV game. Basically what we do is, we highlight persons from the Haitian community who are contributing positively to the growth of the Bahamas," said Mr Georges.
In a video blog to 100Jamz, Wyclef said: "I am on my way and I know you've been waiting for me for a minute, but this is it right here. This is the Unity Fest and I look forward to coming out there. You already know I am all about the Carnival. Queen Elizabeth Sports Centre, what can I say, May 18, you already know what it is."
The singer said when he arrives in Nassau, he does not plan to leave right away.
"Make sure you'll keep me in the hotels for at least like a month, I need a vacation. Get your information and tickets, I look forward to seeing the other Unity Fest performers. The show starts 8 pm. I am from the Caribbean and I know you Caribbean people, so when we say 8o'clock, don't be showing up at 12 in the morning. 8 o'clock the show will start, I will see you'll there, this your boy Wyclef Jean."