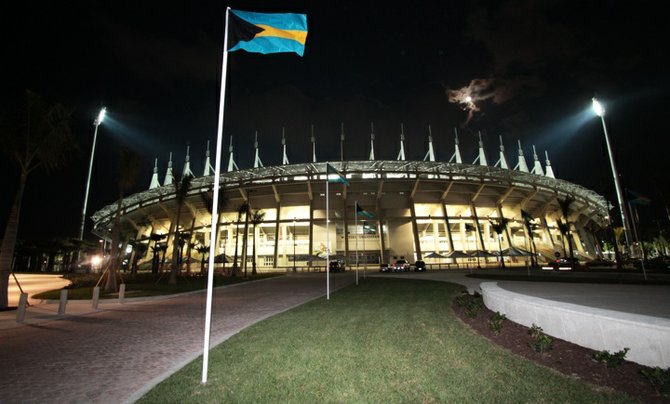 • Follow the action tonight from the national stadium on twitter.com/tribune242 or on the Twitter panel at the right hand side of the home page - kick off is at 8.00pm EST.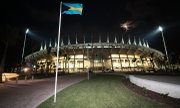 By BRENT STUBBS
Senior Sports Reporter
bstubbs@tribunemedia.net
ALL systems are go for tonight's historic exhibition game between Jamaica's national soccer team, also known as the"Reggae Boyz," and Tottenham Hotspur Football Club out of England.
Leroy Archer, chairman of the National Sports Authority, said the new Thomas A Robinson National Stadium has not been affected by the downpour of rain and everything is in place for the soccer match that is scheduled to begin at 8pm.
"The field is holding up wonderfully, there's no water settling at all, we are quite ready and everything is a go," Archer said. "Everything is in order. We were not impacted by the weather at all."
The "Reggae Boyz" are using the game as a part of their 10-day training camp here to prepare for two CONCACAF World Cup qualifying matches at the national stadium in Kingston, Jamaica, when they return home in June.
Tottenham is coming off their completion of the Premier League season where they finished fifth, just shy of advancing to the Champions League.
While the "Reggae Boyz" have been at the stadium using the facility to train, Tottenham has decided to stay in the confines of the Albany Resort where they have been working out.
Dr Tyrone McKenzie, vice president of Albany, said Tottenham has been in a "locked down" mood at the resort.
"They have been relaxing, but they are now in lock down. Basically the day before they play, they don't do anything," McKenzie said.
"They are in lock down going over their strategy and watching Jamaica on tape. All I know is I hear them keep asking for markers and the chalkboards."
Over the last two days since they arrived on Monday night, McKenzie said Tottenham had intended to do a couple of things in the community, but they aborted all of those plans and just basically stayed in at the resort where they utilised the facilities on the property.
"Once the game is finished, they will be doing as many visits before they leave on Friday evening," McKenzie said. "In fact, they may not even go back to Albany after the game. They are going on a night tour."
The Jamaicans are expected to remain in town for another week and will have some opportunities to interact with the public.
But tonight, Archer said it's a good time for the public to get an opportunity to view the two teams in action in the first international soccer match to be played at the stadium.
Archer, however, said Bahamians as usual have been making their way slowly to the NSA's box office to purchase their tickets.
"Bahamians are just slow in responding," he said. "But they are coming. I'm just like a chicken without my head because we just wait too long to do anything. Now everything is a rush to get their tickets, but the ticket sales are going good."