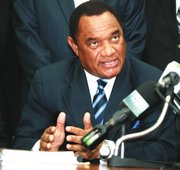 THE ever-increasing population of the Bahamas Bar Association presents both exciting opportunities and pressing challenges, Perry Christie said.

High on this list must be the need for lawyers to develop a higher degree of specialisation, the Prime Minister said at the official grand opening of the Bahamas Bar Association's Administrative Complex recently.
"Just as 'general practitioners' in medicine have become an endangered species because patients are demanding specialists in the various branches of medicine, so, too, lawyers must meet popular demand for specialists within the various areas of law.
"Being a generalist is no longer going to cut it, at least not for the new generation of lawyers coming on stream," the Prime Minister Christie added.
It is important, therefore, for lawyers to develop specialised legal expertise. Also, it is equally important that the public have a clear idea of just who the specialists are and who the leaders in the respective fields of law are, he said.
"To better assist the public in this regard, I am pleased to make it known that very soon additional Queen's Counsel – or QCs – will be appointed."

The Prime Minister explained that the primary aim in making these new appointments will be to ensure that the general public and international investors alike have a wider and more balanced choice of the leading counsel available to them in the various disciplines of law.

During the official opening, Most Senior Members of the Bar, William McPherson Christie and Godfrey K. Kelly, CMG unveiled the Cornerstone.
Former Governor General Sir Orville Turnquest, GCMG, QC and Chief Justice Sir Michael Barnett presented the official naming of the Council Room after Sir Kendal G. L. Isaacs, who was the first president of The Bahamas Bar Association.

The new Bar Association's complex, which also includes a restaurant, is now called the Basil and Audrey North Building named after the previous owners of the house. Audrey North was Sir Kendal's sister, and also present at the opening were Dr. Gail Saunders and Mr. E. B. Terry North, the children of Audrey and Basil.
Attorney General and Minister of Legal Affairs the Hon. Allyson Maynard Gibson and Deputy Prime Minister and Minister of Works and Urban Development were also present at the ceremony.