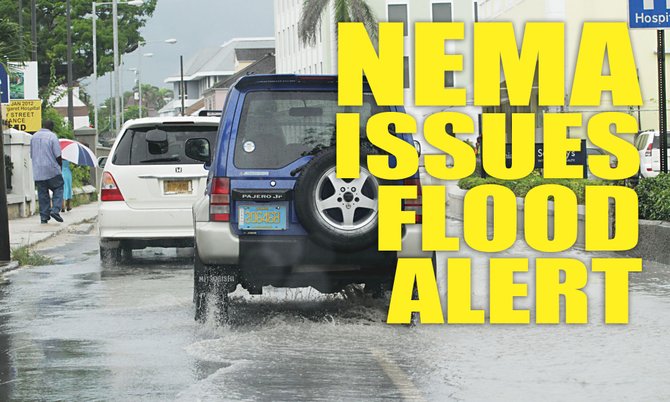 By AVA TURNQUEST
Tribune Staff Reporter
aturnquest@tribunemedia.net
SEVERE flood warnings were issued yesterday for the entire Bahamas as a major weather system threatens the archipelago with excessive prolonged rains and thunderstorms this week.
Residents were put on alert to potential threats for flash flooding, tornados and winds up to 30 miles per hour at a joint emergency press conference to alert the nation of the conditions expected flood at least 80 per cent of the country.
Officials from NEMA, the Meteorological office, Ministry of Works, the Royal Bahamas Police Force, and parliamentarians urged residents to take action to safeguard their lives and property ahead of the heavy rains predicted to deluge the country with continuous downpour until late Friday night.
The Bahamas Electricity Corporation advised residents to switch off main breakers at home in the event of flooding.
In a press statement yesterday, the corporation explained that the breaker switch should be left off until a licensed electrician can assess the building.
Northwest Bahama islands, including Grand Bahama, New Providence, Eleuthera, Abaco, Bimini, and Andros, were expected to receive most of the rainfall between last night and early today.
Assistant Commissioner of Police Hulan Hanna advised residents in low-lying areas to seek shelter immediately if they are not able to secure their homes effectively.
Mr Hanna said: "If you are already in an area that is likely to be compromised you need to be making all steps now ahead of the system to get to a proper place of safety. Don't wait until you are stuck, move now, move now."
The National Emergency Management Agency was activated at 2pm, according to director Stephen Russell, who said the agency would stay active until the system had passed over the country.
Last night, the agency was said to be coordinating with potential shelters to accommodate victims displaced by floods.
Officials explained that flood conditions experienced in Pinewood and eastern New Providence communities last week were exasperated by the spring tide, which maxed out drainage systems in some areas.
Bahamas Department of Meteorology director Arthur Rolle explained that the severe weather system would move over the entire Bahamas as the clouds extended from the western Caribbean Sea were oriented northeast to southwest. Over the next three days, Mr Rolle said accumulated rainfall is expected to match the record 15 inches experienced in New Providence last week. "We expect embedded in those clouds, that mass of clouds, thunderstorms that have the potential to produce tornados, and we already know what tornados can do – loss of lives destruction of our buildings," Mr Rolle said. "We also expect the winds to reach 30mph, just under tropical cyclone intensity, and we expect severe flooding throughout the archipelago particularly in those low-lying areas."
He added: "We are advising residents to take every precaution to protect lives and property, be mindful that this is the hurricane season so not only for the next few days but for the period of May to October we can expect rainfall of high magnitude to impact these islands."
Grand Bahama Minister Dr Michael Darville warned residents not to trivialize warnings, pointing to the island's struggle to recover from damage caused by Hurricane Sandy last year.
Dr Darville said: "Those residents in Queen's Cove and McClean's Town and some of the low lying areas in East Grand Bahama please do not take this system lightly, for those resident who may not be mobile or who may have severe medical complications this is the time now to ensure that the representative or the clinic in your district is aware of what your medical needs are so they can be addressed now before the actual weather system is in full effect."
Shonalee Johnson, NAD's communications manager, said there were no disruptions to scheduled flights at the Lynden Pindling Airport, adding that officials would continue to monitor the storm until the last outbound flight departed shortly after 10pm.
Emergency numbers, provided by NEMA, are 322-6081 or 6085. Police are available on 302-8356 or 322-6881 or 6882.
Shelters confirmed to open today at 8am, include:
• Epiphany Anglican Church - Prince Charles Drive for the Yamacraw, St Anne's and Elizabeth constituencies and the surrounding communities
• Agape Full Gospel Baptist Church for the Kennedy Subdivision, Pinewood Constituency and surrounding communities
• St Mary's Hall, St Augustine College for Bernard Road, Fox Hill Constituency and surrounding communities.