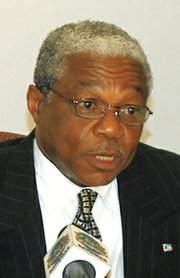 THE Minister of National Security, Dr Bernard Nottage, is taking a leave of absence to fly to Florida for a medical examination.
Dr Nottage will be examined at the Cleveland Clinic after a recent illness that is said to be not life-threatening. He is accompanied by his wife, Portia, and his police aide.
In his absence, the Prime Minister will assume the responsibilities of the portfolio National Security.