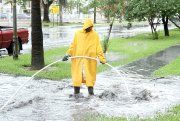 By AVA TURNQUEST
Tribune Staff Reporter
aturnquest@tribunemedia.net
SCATTERED showers drenched the capital as officials forecast prolonged rains will continue throughout The Bahamas today.
Low-lying area residents hard-hit by last week's torrential downpour were depressed yesterday as flood waters surged unabated.
Pinewood and Fox Hill communities have urged motorists to avoid submerged streets as high traffic exacerbated flood conditions by sending rushing water into their homes.
Impact from the heavy rain system was not as pronounced in the Family Islands yesterday, according to NEMA, which confirmed widespread downpours but limited flooding.
As the moist unstable air mass hangs over the country, officials projected cloudy to overcast conditions with widespread rain for the northwest and central Bahamas. In the Southeast Bahamas, scattered showers and isolated thunderstorms were predicted.
On New Providence, the disaster response agency workers were forced to relocate a special care Fox Hill resident, and attempted to move another two women with caved-in roofs; however, the residents of Nassau Village and Stapledon Gardens refused assistance.
Press representative Lindsay Thompson said the NEMA had not yet made a decision on whether the agency would respond to requests for tarpaulin from 20 residents, who wanted to cover leaking roofs.
The National Emergency Management Agency (NEMA) was activated after severe flood warnings were issued for the entire Bahamas. Residents were put on alert to potential threats for flash flooding, tornados and winds up to 30 miles per hour.
Conditions are expected to flood at least 80 per cent of the country before the system clears late Friday.
Yesterday, the Meteorological office posted advisories for swimmers and small craft to be on alert for dangerous rip currents as the tide rises.
Inclement weather has forced organizers to postpone the launch of the 40-day Independence Countdown Friday. The event was postponed to next Tuesday at Rawson Square, according to committee member Arlene Nash-Ferguson.
Emergency numbers, provided by NEMA, are 322-6081 or 6085. Police are available on 302-8356 or 322-6881 or 6882.
Six shelters were opened on New Providence: Epiphany Anglican Church, Agape Full Gospel Baptist Church, St Mary's Hall at St Augustine College, St. Barnabas Anglican Church on Wulff Road and the Church of God, Gambier.
Four shelters were opened on Inagua after a disaster preparedness meeting between local government and the Community Emergency Response Team (CERT). Four shelters approved on Inagua: Wesley Methodist, Zion Baptist, Inagua Gospel Chapel and St Philips Community Centre.