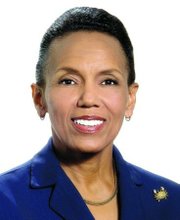 By DANA SMITH
Tribune Staff Reporter
dsmith@tribunemedia.net
ATTORNEY General Allyson Maynard-Gibson said the $2 million allocation for new police cars in the 2013/2014 budget will help with saturation patrol and thus"address crime" and the fear of crime.
Speaking in the Majority Room after Prime Minister Perry Christie presented the budget in the House of Assembly, Mrs Maynard-Gibson praised the government for its "extraordinary work".
Especially, she said, given the "challenges" the country was faced with last year.
"You heard the Commissioner of Police, crime is down, things are headed in the right direction with crime. However this budget, as the prime minister has said, there is more to be done," she said.
Pointing to the government's Project Safe Bahamas initiative, Mrs Maynard-Gibson praised it for its "prolific approach" to the prevention, detection, and prosecution of crime.
"You look at the budget, you'll see the provision for police cars by way of example, which will enhance saturation patrols – which is so effective," she said.
"We've seen the effectiveness of saturation patrols; we're going to enhance that and people will see, around the clock, police on the streets which will address crime and also the fear of crime."
During his 2013/2014 budget communication in parliament, Mr Christie said the acquisition of the cars is just one of many measures to be implemented in the fight against crime.
But opposition MP for the St Anne's constituency, Hubert Chipman, believes that instead of buying new patrol cars each year, the government should allocate taxpayer funds for a compound where damaged police vehicles can be repaired.
"What we need to start doing," Mr Chipman said, "is investing in a nice police compound where we actually are repairing these vehicles instead of continuing to invest in new vehicles.
"The new vehicles probably will end up in another three to four months on the side of road.
"Then we are faced again with another two, four, five, million dollars."
FNM MP for Central Grand Bahama Neko Grant urged Bahamians to visit the RBPF's compound on Thompson Boulevard, where he said scores of cars are parked and non-operational.
Some of the force's newest vehicles, he said, are already in bad shape.