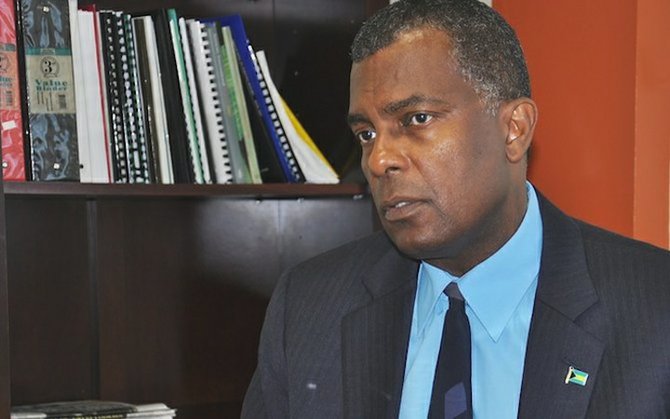 By SANCHESKA BROWN
Tribune Staff Reporter
sbrown@tribunemedia.net
IMMIGRATION Minister Fred Mitchell yesterday denied his department has neglected two Cuban detainees, who are allegedly being abused at the Her Majesty's Prison.
Speaking with The Tribune, Mr Mitchell confirmed that two Cuban immigrants are currently being held in "no man's land" in the prison, he denied that they are being abused or mistreated in any way.
"You have to remember these people do not have a right to be in the Bahamas and they came into the country illegally. They are in Her Majesty's Prison because they are considered a security risk to the Detention Centre because they incited violence there," he said.
"They have been turned down as ineligible to go to the United States even though they were former resident card holders. The matter is presently up for further review. They cannot return to Cuba because they are residents of the United States, according to the Cubans. They are also not eligible for refugee status in the Bahamas or a third country. So they will remain locked up until their status is resolved. But I can tell you, they are not being mistreated. The prison rules would not permit that. If there is an issue they have an attorney who can look into what the problem is. I do not know the inner working of the prison, but I would be very surprised if those men are being mistreated."
Mr Mitchell's comments came after family members of Carlos Pupos Mendoza and Lazaro Seara Marin accused the government of detaining the two men under inhumane conditions without charge.
In a letter sent to The Tribune and circulated on line "Yeinier Ferrer" claims that he has not heard from his brother Lazaro in five months. He called for Human rights organizations to agitate for their release to the United States.
After four months of protest over investigations into alleged human rights abuses at the Carmichael Road Detention Centre from a Miami based Cuban exile group, the government announced plans to launch a probe.
Five Defence Force marines were officially charged at the Defence Force Base in Coral Harbour last month following an investigation into claims of abuse at the Detention Centre.
The men maintained their innocence and are represented by lawyer Wayne Munroe.