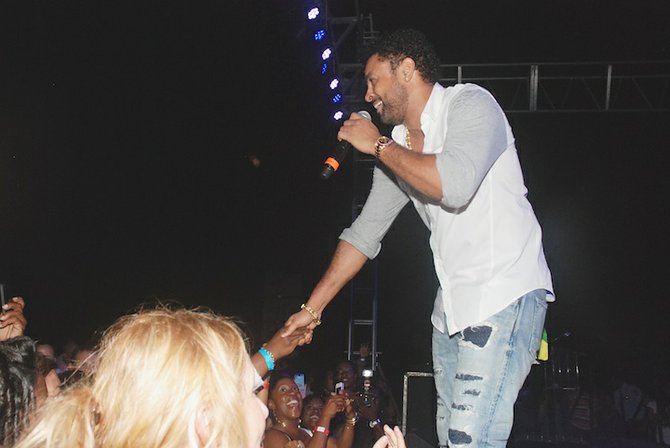 A SOLD-OUT crowd of more than 600 gathered at Sandals Royal Bahamian for an evening of warm sand, ocean surf and good music under the stars – all while supporting a great cause.
The Sandals Foundation, the philanthropic arm of Sandals Resorts, hosted the party – aptly entitled "Vibes on the Island" – in aid of The PACE programme, and in particular the local charity's building fund.
Guests were invited to "Get their Vibe On" and were treated to an extravaganza on Sandals' private island which culminated in a private concert by Mr Boombastic himself – reggae artist Shaggy.
"The Sandals Foundation is very proud to continue its partnership with PACE (Providing Access to Continued Education), which strives to make a remarkable impact on the lives of many young girls, changing the outcome for future generations," said Adam Stewart, CEO of Sandals Resorts International and President of the Sandals Foundation. "The money raised here this evening will go to further educational opportunities that are crucial to community development here in the Bahamas".
Speaking about why he chose to align with the Sandals Foundation and PACE, reggae Shaggy said: "I am extremely passionate about education and the continuing support to teen parents is high on my list of concerns. I have always done music with a purpose and anytime I have the opportunity to perform for a cause, it is a blessing. It is great to be performing at this wonderful charity event for all my reggae fans here in the Bahamas".
All proceeds from the event's ticket sales will go to support the PACE programme and the refurbishment of a first-of-its-kind support centre that will ensure young mothers are provided with a resource that accommodates administrative, health care, nursery and academic services.
PACE provides education and support to teenage mothers and promotes awareness to help reduce teen pregnancy among young adults in the Bahamas.
• See tomorrow's Arts and Entertainment section for more.