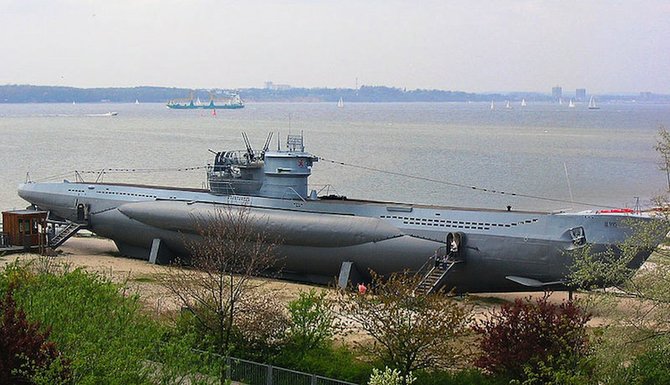 THE morning of Saturday, August 7, 1943, began clear and calm, with good visibility from the bluff on which the town of Clarence Town, Long Island, Bahamas is perched. During the summer, when school was not in session, young Ancil Rudolph Pratt was able to take his father's horses out to pasture in the morning. He and his friends - Wellington Smith, Kipling Simms, Jeffrey Strachan and Isaac Taylor - liked to take the horses to the coast southeast of Clarence Town and enjoy playing on the seashore while the horses ate fresh grass.
Pratt remembers that it was a clear sunny day and the boys had made it to the bluffs around midday when they all saw something so unusual that they remembered it to their dying days, and confirmed it by looking at photos later. They were several miles southeast of town on the bluffs. A boat of some sort emerged from the water about two miles out to sea. They could clearly see the "sail" or conning tower, but not any people on deck or on board. The craft was moving slowly and leaving a wake behind it. The boys could clearly see machinery on deck.
Judging from the comparative distance between telephone poles strung along the coast, which are spaced roughly 200 feet apart, the judged the length of the vessel to be about 200 feet. After ten to fifteen minutes the submarine submerged, though a kind of radio mast was still visible. The sun was over their heads at midday, the submarine headed from left to right away from land, towards the southeast. The boys' backs were to the high bushes and trees. They watched the mast cutting through the water and heading away.
Asked whether he had witnessed a submarine in Bahamian waters during World War Two, Mr Pratt, a former insurance salesman in Nassau for 25 years who runs a shop in Clarence Town and is a well-respected member of the community, he replied "it couldn't be nothing else". It also could not have been any other day – Sunday the boys would have been in Church and in weekdays engaged in either school or church. "This is not no story," he says, "I'm telling you I saw it with my own eyes."
The channel off Long Island was used by eight German and Italian submarines in World War Two: the Italian submarine Finzi and the German U-boats U-84, U-108, U-129, U-185, U-508, U-732, and U-751. U-84 had transited the Crooked Island Channel east of Long Island on 10th July 1942, and the British Admiralty reported a submarine spotted on the 22nd of July, which might also have been U-129 under Hans-Ludwig Witt, however the sub was described heading southeast (same direction as U-84) and Witt was heading back to Europe.
Neither can be verified with certainty, though possibly the sighting of U-84 was made on an earlier date by fisherman and reported on the 22nd when they returned. The source of the sighting was "Hardbargain South Side Long Island course South East." Hard Bargain was a largely abandoned salt harvesting community, also just south of Clarence Town Long Island.
Given the certainty of it being a Saturday in early August 1943, it was much easier to verify the sighting by young Pratt and his friends.
On Saturday, August 7, 1943, Oberleutnant zur See Claus-Peter Carlsen, aged 23, was conning his submarine, U-732 back to Brest, France. He was on the 58th day of an 83-day patrol during which he attacked Allied ships three times and was counter-attacked more often, first by two US Kingfisher reconnaissance airplanes, and another time driven away from a convoy by two American destroyers. On the afternoon of Friday, July 6, U-732 put the north coast of Cuba astern and passed west of Great Inagua in the southern Bahamas. At 10pm local time on the 6th, Carlsen noted his intention in the sub's log book, or KTB, that he intended to take a winding course through Crooked Island Passage as part of his return voyage.
By 2am on Saturday, U-732 was able to take a visual bearing on Castle Island Light at the southern tip or Acklins Island. He noted that the light was "shining peacefully and is very good for position-fixing". At 5:30am, the submarine submerged, having ventilated and charged its batteries on the surface. By submerging, it made itself less vulnerable to detection and attack by enemy aircraft and ships, however their transit of the winding passage was only about halfway completed. They would need to verify their position before they were through. At 10am, they were southeast of the coast of Long Island, and by early afternoon were only seven or eight miles from land. If the submarine was on the surface it would have been visible from an elevation ashore with 12-mile visibility on a clear day.
During the hours between 2pm (it might have been noon depending on the time difference between Germany and the Bahamas), and 4pm, when the sub was next reported east of Clarence Town, Carlsen did not record anything, whether he surfaced or not was not noted. Certainly if it was surfaced the sub could achieve four times its submerged speed of about three knots, allowing it to cover substantially more ground. It is also possible that before crossing the wide Atlantic Carlsen wanted to visually verify his position, particularly to line up a safe passage between Samana Cay to the south and Rum Cay and San Salvador to the north. In particular there are two large, Spanish-colonial-style churches on the bluffs east of Clarence Town which would have served as reliable beacons enabling a captain to confirm his exact position.
Whether Carlsen took the calculated risk of surfacing southeast of and out of sight of Clarence Town proper will not be known with certitude. He demonstrated in writing a propensity to approach landmarks and verify his position as recently as passing Castle Island Light some 12 hours before.
The evidence suggests that five pairs of eyes witnessed the submarine indeed surfacing for a short time before heading east to break free of the shallow Bahamas and head back for Europe, where U-732 arrived on the last day of the same month. If so it would be the only verifiable incidence of a living witness having seen a German submarine patrolling in the region – one Saturday morning out of some 1,500 other patrol days where the enemy prowled the watery region around the islands over the course of more than two and a half years.

• ABOUT the author: Raised in Nassau, Eric Wiberg is licensed as a sea captain and maritime lawyer. He has spent the last five years researching and lecturing on German and Italian submarine attacks in the Bahamas area for the book 'Drifting to the Duchess,' to be published by Brick Tower Press of New York, NY in early 2014. The website is www.uboatsbahamas.com.