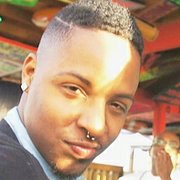 By JEFFARAH GIBSON
Tribune Features Writer
jgibson@tribunemedia.net
EMERGING fashion designers presented some of their best work during Fash|Art 2013 to be crowned winner of the Harl Taylor Emerging Fashion Designer Award.
The two-nights at Jacaranda House over the weekend featured an art exhibit with work from emerging artists and popup fashion boutiques, with a silent auction benefiting the AIDS Foundation.
The second night of the event featured a fashion installation by Harl Taylor BAG, a runway show over the pool top featuring emerging designers. Fashion designers who vied for the award included Kristen Cartwright, Rebecca Johnson, Dandreia Bethel, Alisa Watson, Richie Shepherd and Olivia Russell.
During the runway show attendees saw models strut the pool side in funky designs: dresses, rompers, pants suits, swim suits, jazzy high fashion dresses and stylish high end shoes.
Richie Shepherd as this year's Harl Taylor Emerging Designer winner. He is a young designer whose style reflects classic lines with quality pieces. The Rich Swimsuit Line, which started six months ago, is also influenced by his personal style.
"I got started six months ago and I did not know how to sew. But one day I picked up a sewing machine and started doing it. I have been sketching for about two years now and Fash|Art was the first time I had my designs modelled on a runway.
"It was really shocking when I won. The experience was nice and now I know what to expect if I were to ever be placed in a competition like that again. I am thankful to God for blessing me with this gift because I never dreamed I would have made a swimsuit or be in a fashion show. The pieces were inspired by men in suits, and I thought what can I do to make a swimsuit different?" he said.
Richie was not the only fashion designer to showcase swim wear; young Kristen Cartwright also had models strut their stuff in trendy swimsuits that flatter the slender, busty, flat-chested, or the curvy-all-over woman.  
"I decided to enter Fash|Art because I saw it as a big opportunity to put by name out there and put my brand out there. My collection is based on the sophisticated woman who wants to be different and daring but still comfortable in a swimsuit and flaunting what she has. It is customized so it fits perfectly. I am really thrilled to be a part of it and got awesome feed back from people.
Kristen also tried her hand at making a few evening dresses that were sleek, sexy and classic.
Alisa Watson's dramatic bridal line featured Asian influences.
"I studied fashion design from 2004 -2007. But I have not really been practicing since I came home. This was the first showcase. I have been playing with the idea of entering Fash|Art for a while now and I decided to do it this year. I just want to put myself out there and get the exposure," she said.