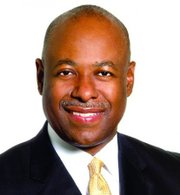 By SANCHESKA BROWN
Tribune Staff Reporter
sbrown@tribunemedia.net
TOURISM Minister Obie Wilchcombe said yesterday that he has "taken note" of Gaming Board Chairman Andre Rollin's public stance on the government's new Gaming Bill.
Speaking with The Tribune, Mr Wilchcombe, who has responsibility for gaming, also said the government has no intention of "tweaking" the gaming bill, despite Dr Rollins' position that he cannot support the Bill in its current form.
"It would not be proper for me to comment on the Chairman of the Gaming Board publicly, but we have taken note of his comments. We take note of his position and his stating them publicly," he said.
"My position is very simple, the Prime Minister has spoken about it and he is the leader of the Progressive Liberal Party at this time. He is the leader of Cabinet and he is also the gentleman who ensures who is made Chairman or given an official position. So at the end of the day he has spoken for all of us. There has been no effort to tweak the Bill and no proposal made to tweak the Bill."
On Wednesday, Prime Minister Perry Christie admitted he was concerned about public statements against the Bill made by Dr Rollins given his position as Gaming Board Chairman.
The legislation will be presented in its current form, according to Mr Christie, who did not confirm or deny whether Dr Rollins would be asked to step down as chairman if he opposes the Bill in parliament.
"There is no intrigue," said Mr Christie, "no unusual consideration going into the delay of the Gaming Bill. The Gaming Bill is still a priority of the government and as soon as we are in a position to deal with it from the parliamentary point of view we will.
"All persons on my side," he said, "know that there is always the right way to express themselves, obviously when they take another way it is a decision they have made. The only concern I would have is that for Dr Rollins who happens to have a substantive position that is directly connected to the Bill as drafted."
Mr Christie added: "When you are chairman of the Gaming Board, a consequence is that if you are to speak against an Act that you have to administer, then you have made your position a very difficult one."
Tabled last month, the Gaming Bill attracted much attention when it was revealed that legislation would permit permanent residents and work permit holders to gamble in casinos while upholding prohibitive clauses for Bahamians. At that time, Mr Christie said he was fully aware of the issues over the discrimination clause and confirmed that his party had not reached a consensus on the Bill or the direction that it should ultimately take.