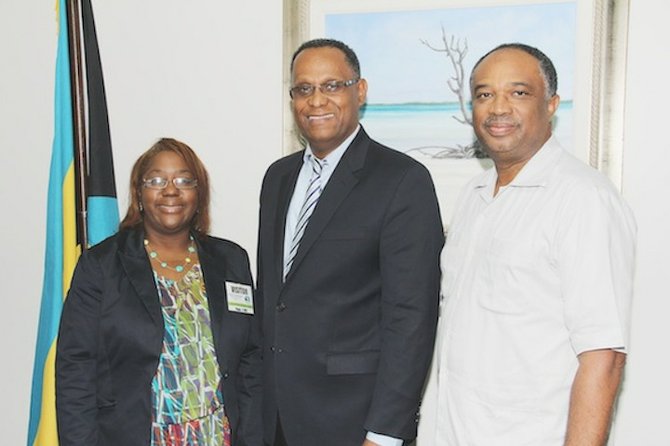 By DENISE MAYCOCK
Tribune Freeport Reporter
dmaycock@tribunemedia.net
FREEPORT – The Bahamas is the only country in the region to report an official case of a notorious flesh eating bacteria this summer, according to a local expert.
Bahamian microbiologist Dr Sheena Antonio Collie said recognition and detection of microbial infectious diseases like vibrio vulnificus is very important in order to control the spread of disease and prevent outbreaks.

She noted that the dissemination of information to the rest of the Caribbean is also important.
"When you start getting emerging infections, you want to know that it is happening in an area and how to contain it because it can become a problem," she said.
Vibrio vulnificus, referred to colloquially as a "flesh-eating bacteria", is often contracted after eating seafood, especially raw or under-cooked oysters.
The bacteria can also enter the body through open wounds when swimming or wading in salt water.
A number of cases of the bacteria have been reported in Florida this year.
Dr Collie, who was in Grand Bahama over the weekend for the Caribbean Association of Clinical Microbiologists, pointed out that the dengue fever outbreak of a few years ago was particularly important for the region.
"That is another good example because, of course, at the symposium we were the only country experiencing that and it was very interesting because of the way we handled it, shared information, how we dealt with it, and the ways we were able to control it," said Dr Collie.
"We are thankful we did not have things like SARS. So detection is very important. We need to know when there is a case of West Nile virus in Florida because we need to start looking for when that person comes in with those symptoms that are similar," she said.
Dr Collie added that outbreaks of various kinds have occurred in hospitals in the Bahamas and in other Caribbean nations.
The doctor also pointed out that the Bahamas is a tourism destination and people come from areas where tuberculosis and other infectious diseases are endemic.
The CACM hosted its ninth annual symposium on clinical microbiology at the Pelican Bay Resort.
This year's theme was 'Tackling antimicrobial resistance with limited resources'. While in Grand Bahama, Dr Collie paid a courtesy call on Minister for Grand Bahama Michael Darville.
Dr Darville said he was pleased that Grand Bahama was chosen to host the conference.
"As a healthcare provider, I fully understand the implications of infectious diseases and the negative effects it can have on our population and our number industry.
"I am happy that this year Grand Bahama Island was chosen as the location for this important symposium, and I am certain that as these regional microbiologists share their country's perspectives on anti-microbial resistance, this knowledge will help to develop a regional policy to address anti-microbial resistance in our respective countries," he said.

The CACM is a group of regional microbiologists and infectious disease specialists who come together annually to share experiences about anti-microbial resistance and infectious diseases that impact the region.
The group shares data and offers presentations on new and emerging bugs.
During the event, Dr Collie said, specialists and professionals in the microbiology field on Grand Bahama will have an opportunity to participate and meet microbiologists from the region.

"We have a strong presence of health care professionals at our ports of entry. We have clinical teams on the ground and I am pleased with how we have been able to combat this potential threat to our tourism sector and the population," she said.