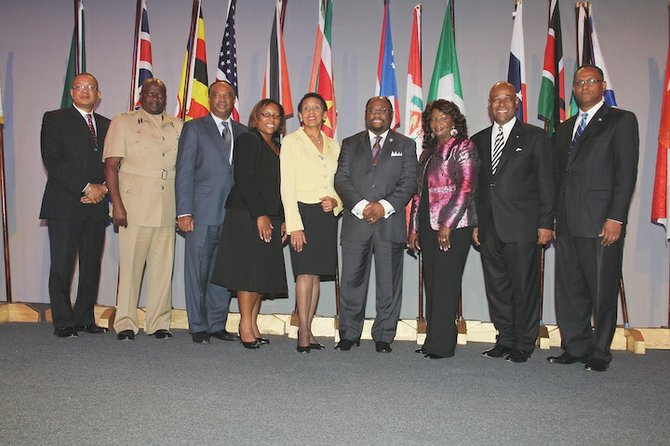 POLITICAL scandals across the world have led to cynicism, a lack of trust in politicians, and a yearning for the return of moral values in public life, Attorney General Allyson Maynard-Gibson said.
Mrs Maynard-Gibson was the featured speaker at the Myles Munroe International Global Leadership Summit 2013, which got underway yesterday at the Grand Lucayan Resort on Grand Bahama Island.
Also bringing remarks at Monday's opening session was Minister for Grand Bahama Dr Michael Darville and Tourism Minister Obie Wilchcombe.
Addressing hundreds of participants from 50 countries attending the four-day event, the Attorney General focused on the summit theme: "Character – the moral force of leadership."
She used the occasion to congratulate Dr Munroe for his vision and leadership in forming the alliance of civil and religious leaders to promote the tenets of principled leadership and morality in all aspects of life throughout the region and the world.
"It can only be by divine inspiration that the genesis of this idea for a global conglomerate of leaders came from this constellation of shallow seas, islands and cays, which have dedicated themselves in their founding constitutional documents to Christian and spiritual values," she told the people assembled in the Grand Ballroom of the Grand Lucayan.
She pointed out that when asked about the role of character in politics, some people immediately conjure up images of unscrupulous, corrupt or scandal-ridden politicians.
"This is because, almost universally, in history and in literature, politicians and secular leaders have been reviled and criticised for lacking in character and moral virtues," she said.
Mrs Maynard-Gibson noted that Proverbs 16 says good leaders abhor wrongdoing of all kinds and that sound leadership has a moral foundation.
She said a variation of this theme appears in Proverbs 29.2, which notes that when the righteous rule, the people rejoice and when the wicked rule, the people groan.
Mrs Maynard-Gibson said around the world, the renewed focus on morality has been impelled not only by the transgressions of individual politicians, but by larger questions of public morality that have plagued the international community.
"These include the activities of unscrupulous bankers, which have plunged many economies into turmoil; the question of the treatment of terror suspects; the eavesdropping of government on private citizens; the permissible limits of warfare; examples of excesses amidst abject poverty; and many others," she said.
Touching on the subject of character, Senator Gibson noted that while most people tout character as a necessary attribute of political leadership, it is difficult to define what it means, and to determine the essential content of moral character, but one knows it when one sees it.
"It may denote a range of attributes of good behaviour or habits, such as empathy, courage, fortitude, honesty, loyalty, respect and responsibility.
"Interestingly, the word 'character' is derived from the Greek word 'charakter', which means a mark impressed upon a coin, that is, something permanent, stable and unchanging.
Because it is difficult to define but easy to recognise, I say that a person must demonstrate his or her character or be marked by his or her character," she said.
Senator Gibson said that in a telephone poll conducted by the University of Virginia some time ago, the traits people most endorsed as the defining elements of character were being respectful, honest, fulfilling commitments, obeying the law, and working hard.
"These are traits of public civility that all decent citizens aspire to cultivate and exhibit, and do not necessarily set the politician apart.
"In fact, international efforts aimed at regulating the conduct of public officials, including politicians, through the combination of international conventions and domestic legislation, are all directed at preventing bribery and corruption.
"This is as it should be, for in reality these are the only aspects of morality that are capable of attracting and being enforced by a legal obligation. In contradistinction, the moral obligation or the dictates of conscience are the defining hallmark of character," she said.
Senator Gibson added that it is altogether right to expect at the most basic level that leaders should be free from corruption.
"But this is far too legalistic and a narrow view to take of the matter. A sound character and strong moral life are essential prerequisites for political leadership, although this does not necessarily mean that a politician should be a saint," she said.