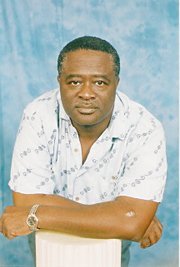 By JEFFARAH GIBSON
Tribune Features Writer
jgibson@tribunemedia.net
A BAHAMIAN author hopes his latest work will primarily entertain and encourage aspiring writers to allow their imaginations to run wild.
Wayne Elliot Sr recently released two books, Kiss and Kill and That Dreadful Bahamian Sunrise, and is in the process of writing a follow up book.
Kiss and Kill follows an ex-policeman who became the owner of a restaurant and bar "the Silver Dollar Inn". He is later befriended by Jason Wright, a well-known financier of politicians and police officers who is arrested for conspiring to kill the prime minister.
The plots of both books are similar as That Dreadful Bahamian Sunrise is about a crime boss named Joseph 'Joe Monk' Martin who conspired to stage a Haitian overthrow of the Bahamian government, while secretly planning to double-cross the Haitians and seize control for himself.
"The plot for my books come from the name of the story I am about to write. When I come up with a title the story flows somewhat automatically. The hardest thing is to impart it on the paper in front of me," Mr Elliot said.
Mr Elliott has always been passionate about writing. A few years ago he delved into the craft and started penning his stories. He said his inspiration for books sometimes come spontaneously.
"I always had a love for writing even though Math was a favourite subject of mine and I did well in it," he told Tribune Entertainment.
The Bahamian author has written three books to date, with the first being released in 2005 and the second in 2010.
"The feedback I have gotten so far from my readers is one of satisfaction. They say I am a good story teller. I was told by a reader that he had to read The Dreadful Bahamian Sunrise" slowly because he did not want it to end," he said.
Mr Elliot said although people enjoy reading his books, he finds it very difficult being a blooming author in the Bahamas.
"I find it difficult being an author in the Bahamas, because of the small market and I have to pay commission to have my work sold in the local bookstores. While foreign books are bought from overseas, we should have a market in the Bahamas where the bookstores purchase from the local writers," he said.
Mr Elliott was born in New Providence. He received early education at Our Lady's Catholic School and Highbury High, now R.M. Bailey Senior High.
He has served eleven years on the Royal Bahamas Police Force and is now a senior security officer at the Central Bank of the Bahamas.
His books are available for purchase on Amazon.