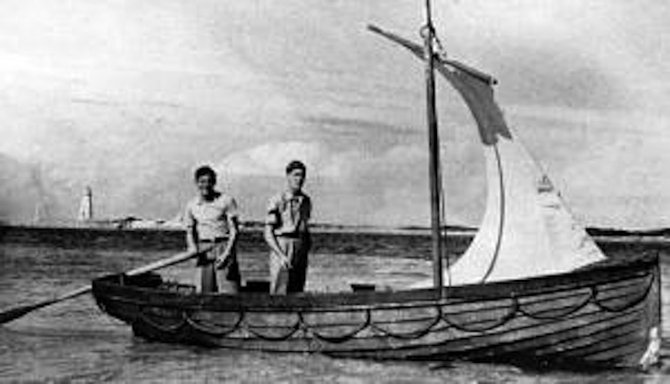 THE story of Tapscott and Widdicombe is written in "the suffering and uncomplaining courage, the indomitable spirit, the unconquerable will to live of the seven sole survivors of this dark incident in a black war on a dense, starless night," The Tribune wrote in November 1940.
When the roll was called, they found they had seven men on board their lifeboat: Chief Officer BC Denny; third engineer HL Hawkes; second wireless operator RH Pilcher, who had been wounded; Gunlayler F Penny, wounded; Cook L Morgan, also wounded, and Able Seamen Widdicombe and Tapscott.
Denny kept a log of their voyage until his death on September 5. After this date the two survivors, Widdicombe and Tapscott, added a few entries but were too weak to continue the log after September 24. They simply drifted and sailed as best they could and they were too weak to bother about keeping a log.
There was an occasional shower of rain, and once they succeeded in capturing a flying fish which landed in the boat.
The log, together with some private papers, were delivered to the Colonial Secretary at Nassau. A report was compiled which included the log entries, which said:
"Nassau, N. P. November 2, 1940
Sinking of S.S. Anglo Saxon by armed German raider on August 21, 1940.
Widdicombe and Tapscott had with them in the boat three pocket books containing papers. Among these papers I found a rough log kept by the Chief Officer BC Denny from the time the boat was launched up to a short time before his death. A few entries were made subsequently by Widdicombe, A. B. The events recorded therein tell the story of this frightful outrage by the German raider."
(EXTRACTS from the log)
August 21, 1940. At 8:20 p.m. in Lat. 26. 10 N. Long. 34. 09 W. attacked by German raider assumed by crew to be S.S. Weser or Weber, Hamburg America line. (In fact it was the Widder, an auxiliary cruiser of the German Navy that was used as a merchant raider). Vessel not sighted until she had steamed to within a mile of us. Pitch black night. First sent four shells four inch crashing into poop and gun platform aft. Many of crew in fo'castle were killed. She then steamed to within three cables and raked the decks with incendiary machine gun bullets coloured red, yellow, white and blue. Then a shell hit engine room starboard side and main boiler burst. The bridge and wireless room were raked with Pom-pom shells and machine gun bullets. Some of the crew went to boats on boat deck but were mowed down by machine gun fire. The two big boats were badly damaged. Senior wireless operator reported wireless installations smashed, unable to send S.O.S. On reporting to Master, found him presumed shot down by machine gun bullets in his cabin, saloon amidships was wrecked, poop by this time blazing and the crew few in number were told to take to the boats. The port gig, under my orders, was lowered and contained seven of the crew comprising: Chief Officer B. C. Denny; 3rd Engineer H. L. Hawkes; 2nd W/T Officer R. H. Pilcher; A.B. Widdicombe, W. R.; A.B. Tapscott, R. G.; Gunlayer F. Penny; Assistant Cook L. Morgan - of whom the 2nd operator was badly injured in the left foot by gun fire, and the 2nd cook in right foot, while gunlayer was shot through right forearm and right leg.
When gig pulled away from the vessel, the raider was lying off a half mile to port and a few minutes later fired tracer bullets into two life rafts launched from vessel.
The vessel sunk stern first and shortly disappeared altogether. Raider headed off to the eastward. Assumed that Germans wanted no members of the crew left alive, and were fortunate in this boat's crew escaping observation. We lay hoved to all night with sea anchors out and at dawn could see no trace of any description. Having no instruments for navigation except boat compass, we set sail dipping lug and course started west to make W.S.W. time, trusting to God's good grace to either finding a vessel en route or striking somewhere in the Caribbean Sea.
Friday, August 23, 1940. Wind E.N.E. 3. Slight sea, slightly confused easterly swell, partly cloudy. Half a dipper of water per man 6am, also half a biscuit with a little condensed milk. Sighted a vessel showing no lights at 11 p.m. Showed sea flare. We were about 100 miles from our original position.
August 24, Saturday. 85' Crew's spirits cheerful. Issued half a dipper of water to each man and half a biscuit, hoping for rain showers.
August 25, Sunday. 24' 12' 36'. Crew all well though 2nd cook and 2nd W/T wounded feet very painful and starting to swell. Rations half a dipper of water at 6am and again 6pm with one biscuit per man per day, with a little condensed milk, hoping for rain showers but none around yet. 6pm opened 6 pound tin of boiled mutton; crew ate half which greatly improved their morale which is splendid. No sign of giving up hope.
August 26th, Monday. Bosun bird flew overhead. Sun rose at 6:52 a.m. A.T.S. Becalmed occasional fitful gusts. Glaring sun rays. Bale out 24 buckets daily. 6 a.m. issued meat rations out from day previous, wrapped in canvas, little taken, half dipper of water per man, little drop of condensed milk, spirits of whole crew keen, no murmur from wounded men. Hoping to sight vessel soon but praying for squalls and a decent wind.
During a.m. medical treatment given by 3rd engineer and myself. W/T operator's left foot which is badly crushed bathed with salt water for an hour and last linen bandage applied, well covered up but swelling badly. 2nd cook's right foot swollen badly, ankle badly strained with bullet wound just above ankle, bathed with salt water and well bandaged. During afternoon first officer, 3rd engineer, gunlayer, A.B.'s Widdicombe and Tapscott dipped their bodies in water overside, taking care to keep their faces out of the water, result greatly invigorating. Rations still half dipper of water per man at 6am and 6pm, only eat half a biscuit per day, no need for more, and a little condensed milk.
The boiled beef kept in canvas still good and the fat is appreciated. Although the W/T is weak, everyone else in good spirits and very cheerful. Keeping two watches, one myself other 3rd engineer, two A.B.'s, four on and four off. Having no nautical instruments or books on board can only rely on the compass and stars at night. Trusting to make a landfall in vicinity of Leeward Islands, with God's will and British determination. 10:30 p.m., wind freshening from eastward skimming along fine at about 5 knots.
August 27, Tuesday. Managed to give each man a cigarette made out of newspaper and half a can of tobacco, but only 8 matches left so this luxury will soon be stopped. On Port tack heading S.W. true making about four knots and throughout night, held a lottery in evening as to who gave nearest date of being sighted or making landfall.
August 28, Wednesday. 160' During afternoon Chief Officer, 3rd Engineer, Widdicombe and Tapscott had a dip over side, felt greatly improved as body absorbed the water leaving salt on the skin, saliva came to the mouth which previously parched. Moderate to fresh E.N.E. trade, heading S.W. true. Bosun bird and ordinary black seagull flying around.
Thursday, August 29. On our eighth day in the boat, crew's spirits extremely cheerful. W/T operator weak owing to left leg going dead. Ration still half dipper of water per man 6 a.m. and p.m. Noon half a biscuit with light condensed milk. High hopes of picking up a ship or making landfall shortly, we are all putting our trust in God's hands, everyone is fit except a weakness in legs and of course great loss in weight. Do not feel particularly hungry but suffer from parched throat owning to low water ration, pity we have no lime juice or tins of fruit, which would ease matters considerably, but no one is complaining.
Friday, August 30: Now a quarter biscuit per man, hardly touched now owing to slim issue of water, small issue of thin condensed milk, crew's spirits cheerful but W/T op getting weaker, during evening becoming becalmed, W/T op delirious kept everyone awake at night with moans.
Saturday, August 31: Becalmed, partly cloudy, nothing sighted whatsoever, have not had one speck of rain yet but living in hopes.
September 1, Sunday. 30' W/T operator R. N. Pilcher passed peaceably away. Committed his body to the deep with silent prayer.
Sept. 2, Monday. 6.15 am Crew now feeling rather low, unable to masticate hard biscuit owing to low ration of water.
Sept 3, Tuesday. 120' Things going from bad to worse, 1st mate who wrote this diary up to this point going fast.
Sept. 4. 100' Everybody very much weaker. The mate is going fast now. 1.30 p.m. Sunday, Penny very much weaker slipped overboard. From 10 pm tonight 14 days out, tried to make the Leeward Islands or Porto Rica, Hayti, but the German raider given none the right to take a sextant, cronometer, extrer water, tin fruit or bottled fruit, no rum or brandy for wounded crew. Evidently intended to smash all life boat gear to kill all inquiry, but we got the small gig, seven of us by wind somewhere in vicinity of Leeward Islands.
Sept 5. Chief mate and 3rd Engineer go over the side no water.
Sept 9. 2nd cook goes mad dies. Two of us left.
Sept 12. A cloud burst gave us water for 6 days.
Sept 20. Rain again for four days. Getting very weak but trusting in God to pull us through.
R. Widdicombe; R. Tapscott








Sept 24. All water and biscuits gone but still hoping to make land. R.W.