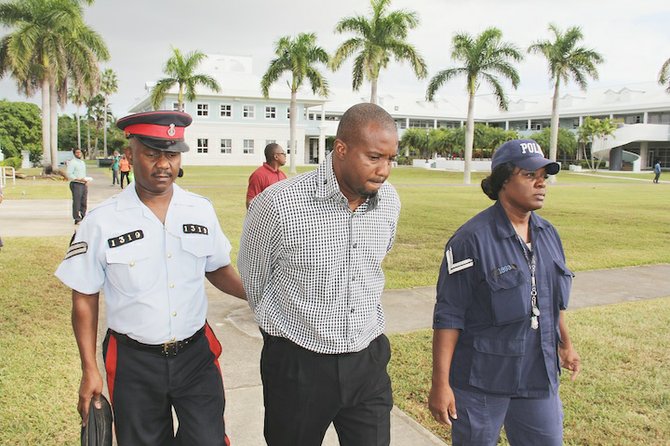 BY DENISE MAYCOCK
Tribune Freeport Reporter
dmaycock@tribunemedia.net
FREEPORT – Screams erupted outside the Supreme Court after a guilty verdict was handed down in the attempted rape trial of Kenyatta Lewis yesterday.
A jury of seven women and two men found Lewis guilty by a vote of 6-3. They retired around noon and returned at 2.30pm.
Lewis, 38, showed no emotion as the verdict was read. He now faces more than 15 years in prison.
Several relatives seated in the courtroom became very emotional and left. Shortly afterwards, a woman identified as the mother of the accused could be heard screaming outside.
The outbursts continued for several minutes while court was still in session upstairs.
Senior Justice Hartman Longley did not appear to be disturbed by the loud screaming from outside.
Lewis was accused of attempting to rape a 53-year-old woman on September 25, 2012.
The victim claimed that sometime around 5am, she accepted a ride from Lewis. She was on her way to a prayer meeting when the stranger stopped and offered her ride, she testified.
On arriving at the church, the woman soon learned that there was no prayer meeting. She claimed that Lewis then offered to take her home.
The victim claimed that Lewis was travelling in the wrong direction and when she questioned him, he told her that his vehicle could not reverse.
The woman claimed that the accused told her that he knew a short cut. She grabbed the steering wheel and the vehicle crashed into a tree.
The victim claimed that Lewis then attempted to put his hands between legs. During a struggle, she said she bit him on the shoulder and finger.
Lewis denied the woman's story and claimed that he was the victim of a theft. He claimed that while giving the woman a ride he wallet went missing.
Lewis claimed that he threatened to go to the police to report the woman and she turned the wheel.
When the woman tried to flee, he claimed that he held onto her, but was bitten on his finger.
After the verdict was delivered, Justice Longley told Lewis that he was found guilty and convicted of the offence. He then asked Lewis if he wished to say anything.
Carlson Shurland then intervened on behalf of his client. He requested that a probation report be conducted before sentencing.
The sentence hearing was set down for November 26.
Mr Shurland spoke with the reporters shortly after the leaving the courtroom.
When asked whether he intends to appeal, he said that he would have to speak with his client.
"At this stage we have not thought about appealing. We need to meet with the client and with the family and review the transcripts and the judges' summing up and make a decision at that time.
"Right now, we have not made any decision," he said.
Mr Shurland felt that the case could have gone either way. He said it came down to who the jury believed.
"It really was a situation where it came down to his word against her word. There was no corroboration of her evidence, and the jury believed her and found him guilty.
"I never question the jury's verdict. I think it is important in our system that we accept what the jury verdict is, and if we have a problem with what the verdict is and if we find some grounds for appeal, we appeal," he said.
Mr Shurland was assisted by junior attorney Brown.