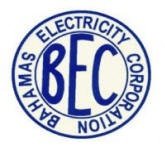 By RASHAD ROLLE
Tribune Staff Reporter
rrolle@tribunemedia.net
THE Bahamas Electrical Workers Union has turned up the heat on its threat to take legal and industrial action against the government, union president Stephano Greene told The Tribune yesterday.
His comments came after the union had completed its conciliation talks with the government at the Ministry of Labour's headquarters on Thompson Boulevard. Mr Greene described the effort as "fruitless."
He said the union will continue to protest against BEC Executive Chairman Leslie Miller's decision to discontinue the practice of allowing unionists to collect sick benefits from NIB in addition to their full salary for the period that they are not on the job.
But before deciding
whether to take legal or industrial action against the government, Mr Greene said the union will give Prime Minister Perry Christie a chance to override Mr Miller's decision.
"We are just waiting for the Prime Minister," he said. "We should hear from him this week and if we don't hear from him, we will go ahead and file to take a strike vote and we will seek legal action and take some industrial action, whether it's work stoppage, go slow or work-to-rule, but some type of action will be taken. Two wrongs don't make a right and always being wrong is not right and that is what Mr Miller is – always wrong."
He added: "The employees are ready to withdraw their labour but we are trying to keep the bull in the pen, but we don't know how long we can do that. The corporation hasn't changed their position and neither has the union. The union has a legal right for our position and we aren't changing it. We are far past those days when people are threatened with their jobs."
In response to the union's threat, Mr Miller said: "Please, go on strike. We have 200 people waiting in line to assist us. They will start at over $40,000." He then said: "You will never see a strike––they have more sense than that."
"If Mr Miller wants to fire us, he could fire us but then electricity would be off for months because Mr Miller can't turn the power back on," Mr Greene replied.