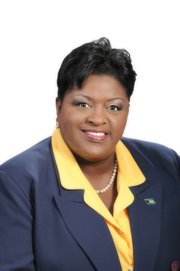 By KHRISNA VIRGIL
Tribune Staff Reporter
kvirgil@tribunemedia.net
WITH just eight months until the implementation of Value Added Tax, Social Services Minister Melanie Griffin says the government is working to enact a plan to alleviate the reliance of Bahamians on welfare.
Despite increased warnings that VAT is likely to hit struggling Bahamians the hardest, Mrs Griffin believes that in the lead up to the new tax system, there will be a major reduction in the need for food stamps and other forms of assistance.
She said: "We are looking to put in place a programme which will take people off of welfare that will break the cycle of poverty. If there is a need for assistance once the VAT comes in, we will already have the programme in place (in order) to take whatever will come."
The programme which Mrs Griffin spoke of was the government's attempts to reform the social safety net.
The new initiative, which she said will revolutionise social services in the Bahamas, involves a conditional cash transfer using a debit card system.
"(It is) actually the consolidation of several assistances that we offer now. What it means is that a sum of funds will be given to the family.
"When we say fund we are not saying that we are putting monies in people's hands, but we will be able to eliminate the food coupon.
"Each family will get this debit card and at the end of each month, or however often we determine it ought to be done, the funds that are provided to that family will be programmed into that card."
The conditions include ensuring that children attend school and that they are not falling below 2.5 grade point average. If the child does not perform as required, they will be made to attend remedial classes, Mrs Griffin said.
"A life style programme is also to be incorporated."