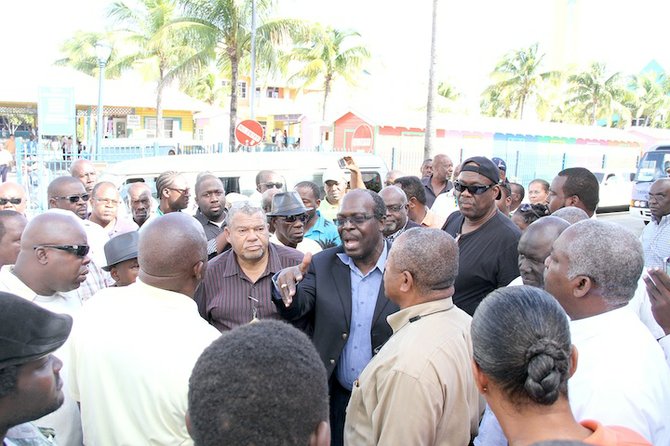 By AVA TURNQUEST
Tribune Staff Reporter
aturnquest@tribunemedia.net
BACKED by the Trade Union Congress, taxi drivers yesterday issued a strong warning that industrial action is imminent if long-standing concerns are not addressed.
Boasting a "united front", some 50 agitated drivers held a press conference to highlight grievances over the government's decision to relocate drivers during renovations to the Welcome Centre at the Prince George Dock, a decision that drivers say they have not been adequately informed about.
However, officials yesterday denied claims that there had been no dialogue with drivers.
Wesley Ferguson, taxi cab owner and operator, said: "For too long, taxi cab drivers have been pushed aside and we remained passive, I am here to announce that taxi cab drivers are now a united front with one goal to accomplish.
"Let NAD at the airport know we are coming, let Kerzner International know we're coming, let the people at the dock know we coming, let this government, know who we voted for overwhelmingly saying 'we are all about Bahamians' know we're coming.
He added: "We are not standing still and watch ya'll push us off. I have been to many ports and we have had the best thing going and we are not going to allow anyone to jeopardise that for their own personal gain. Let the taxi union know that we are coming, and we are coming by storm."
Trade Union Congress president Obie Ferguson charged that the umbrella union would not rest until structural reforms were made to the industry.
Mr Ferguson maintained that there is no discord between the taxi cab union and its members.
Although he said yesterday's gathering was a press conference, and not a protest, Mr Ferguson warned that "the real thing will come in short order, if and when it is necessary".
He said: "We came on [taxi driver's] invitation, and we're not going to leave. We will make sure that when this exercise is over taxi drivers will be properly rewarded and the structure will be in place that they can make a decent and honest living."
"I will call on all of my colleagues, who I have absolute confidence in, who will come out and support the taxi drivers because we know that majority rule could not have happened without taxi drivers."
The 41 vendors at Fort Fincastle also support the drivers, according to association's executive team, who charged that any impact on drivers will directly affect vendors.
Fort Fincastle vendor Dwayne Ferguson said: "When they don't eat, we don't eat. When they don't bring the tourists, the tourists that come with the major tour companies don't shop with us, only tourists that come with local drivers because they encourage them to spend."
Mr Ferguson said: "The money that comes from through these drivers goes over the hill, and trickles down into the small mom and pop food stores, goes into the gas stations and everybody, this whole country strives off these drivers so we need to support them to the fullest."
Taxi drivers have been relegated to "second class citizens" despite their historic contributions to the country's development, according to Mr Ferguson, who now represents 170 taxi drivers.
Mr Ferguson said: "I told the minister that I would get back to her ASAP with a listing of all of the issues affecting these workers, we're going to meet in short order with a view of resolving these matters. This is a team effort now, I'm putting the whole TUC behind this movement."
A statement from the Ministry of Transport and Aviation said: "The public is advised that contrary to this suggestion, the Minister of Transport and Aviation, Glenys Hanna-Martin, along with senior Ministry of Tourism officials, senior officers from the Royal Bahamas Police Force (Tourism Division) and representatives of the Road Traffic Department, have engaged in several hours of discussions with the leadership of the Prince George Dock Association, the representatives of the taxi drivers at the Prince George Dock."
Yesterday, drivers insisted that only a few signs had been posted, and it was not clear whether or not the move was transitional, and when it would take place.