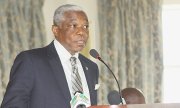 THE Bahamas today could benefit from a "good dose" of family planning at every level of society, Minister of National Security, Bernard Nottage said.
Considering the percentage of children born out of wedlock, to teenage mothers, and into single-parent homes, this conclusion is obvious, Dr Nottage said.
"Statistics produced for 2010 show that there were 13 births to children ages 10-14 years and 575 for those from 15-19 years of age," he said.
Addressing the re-launch of the Bahamas Family Planning Association and the unveiling of its new logo, the minister said he became aware of the need for family planning more than 30 years ago. But at the time, he was "a voice crying in the wilderness".
Dr Nottage said the re-launch could not have come at a better time as the government seeks solutions to the social ills plaguing the country – many of which "have a direct bearing on the extent and effectiveness of our family planning initiatives".
A gynaecologist/obstetrician by profession and one of the country's earliest proponents of family planning, Dr Nottage said the ceremony made him feel "optimistic and encouraged" as he reflected on the struggle "to effect a positive change in the attitudes of our people regarding their sexual and reproductive health and rights".
He said: "My inspiration at that time was about more than delivering babies and making money. Of course there were many babies to be delivered and much money to be made. However, I wanted to see those babies grow up in secure homes, with good prospects for a happy and fulfilling family life," he said.
"I wanted to see women enhance their education, be gainfully employed, and have their families. I wanted to deter our adolescent girls from childbirth before their bodies were fully developed and they were prepared to take on the responsibilities of motherhood."
But many disagreed with his message, and he was attacked as encouraging Bahamians to waste "God's seed", the minister said.
"The general atmosphere in the country was averse to any dialogue suggesting family planning, birth control and abortion. It was simply difficult to talk about any such matters affiliated with planned-parenthood," he said.
Dr Nottage said the association can now break new ground in services offered to young people, the economically challenged and at-risk groups, as the profile of family planning has changed considerably.
"In addition to the traditional family planning methods, your services will now extend to men and the alternative lifestyles. The profile of sexually transmitted diseases now includes cancer of the cervix, herpes, warts, and most devastating of all, HIV/AIDS," Dr Nottage said.
"You must now ensure that your message gets out to those who need to hear it; that your services benefit those for whom it is intended and that the appropriate studies are carried out to ensure the effectiveness of your programmes."