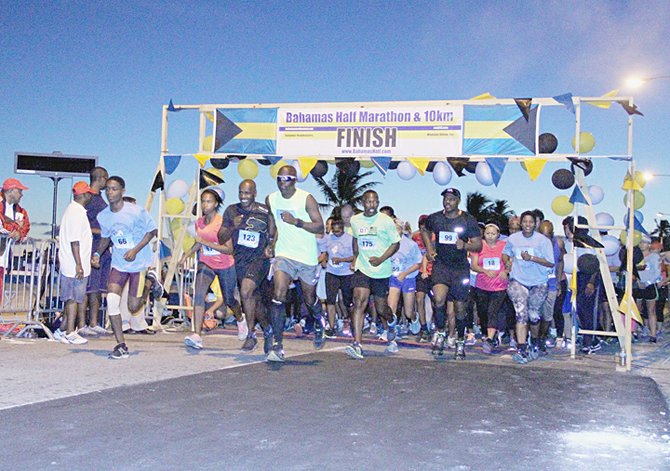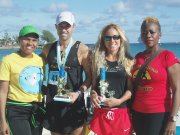 By BRENT STUBBS
Senior Sports Reporter
bstubbs@tribunemedia.net
Once was not enough for Jonathon Volpi. After coming here for the first time last January to win the half marathon in the third annual Marathon Bahamas weekend, Volpi returned and pulled off another victory in the inaugural Bahamas Half Marathon.
The event began and finished at Arawak Cay on Sunday morning, but took a different route as competitors went along the western end of the island. Marathon Bahamas' half marathon travelled the eastern end.
Volpi, 30, crossed the finish line in one hour, 11 minutes and 36 seconds. He was chased by local distance running duo Mackey Williams (1:18.36) and Sidney Collie (1:19.38), but neither was able to catch the American.
"It was good. It was a very good race, good course, nice scenery along the beach," said Volpi, who hails from Daytona Beach, Florida. "It's fun to race here and it's close by, so I will continue to come here to compete."
Volpi intends to be back in January to defend his title in the half marathon and hopefully if the event continues next year, he would love to be back to defend his title there too.
For Mackey, the training that he put in with Collie certainly paid off. "I just stayed on my game plan. I know we had some wind going down, so I knew we would have the headwind coming back, so I tried to preserve my energy until we came back up," said the 44-year-old Mackey.
As for Volpi, Mackey said he saw him out front and he and Collie tried to stay with him, but unfortunately, they didn't.
'He was more my rabbit to a point, but just before we did the turn around, he was able to pull away," Mackey said. "So we just tried to stay as close as we could behind."
Collie, who is training more for the marathon where he has been successful in the top three over the past two years, said he agrees that the training that he and Williams have been doing made a difference.
"I'm the marathon man, so if they decide to run in there, they will get it," Collie said. "I'm just happy that Mackey ran as well as he did. The guy who beat us was good. But I would also like to see him run in the marathon here."
On the women's side, Florencia Morales made her debut here an impressive one. She wasn't challenged at all as she took the tape in 1:23.55 for her historic run. Susan McGuire was second in 1:39.17 and Roberta Fontana got third in 1:45.53.
"It's my first rime in the Bahamas and I'm loving it," said Morales, a 34-year-old native of Argentina, who has been living in Fort Lauderdale for the past seven years. "The course was nice, but it was tough for me because I did the full marathon in Chicago last month and I got an injury so I couldn't really train for this one."
Maguire, who has been busy with the operation of her restaurant in Lyford Cay, said she was thrilled to have an event like this at home, especially after coming from Dublin, Ireland where she recently participated in a full marathon there.
There was also a shorter 10 kilometre race that saw Jeremico Cooper clinch the men's title in 44.51 and Barinique McIntosh claimed the women's crown in 50.20.
It was the first race for Cooper, a member of the Bahamas national rugby team. But because of his fitness, he felt he had the stamina and endurance to even surprise himself.
"It was good. I enjoyed it," said the 30-year-old. "After watching the other runners do the half marathon, I really want to get into it a little more. So I think I will join a local group and get more involved in it."
Noted McIntosh: "It wasn't that bad. I had most of my competition from the guys because there was no females for me to run with it, so it was good. I want to thank my coaches Mike Armbrister and Floyd Armbrister from CR Walker for training me."
Shavonne Blades said the event was a tremendous success, having exceeded their target of 300 participants. "It has surpassed our expectations. Everybody was saying that it was well executed and they had a fantastic time and they can't wait for next year," Blades said. "So we're looking for it being even bigger and better next year.'
The "No Limit" team, comprising of Ronald Kemp, Dominic McPhee and Derecko Hinsey took the relay title in 44:51.
Divisional winners are as follows:
Male 1-19 - Noah Godfrey, Atlanta, 2:05.27
Female 20-29 - Christine Hedge, Peachtree City, 1:52.30
Male 20-29 - Andrew Trentmann, Urbandale, 1:33.10
Female 30-39 - Catriona McKinnon, Grand Cayman, 1:47.33
Male 30-39 - David Ferguson, 1:22.00
Female 40-49 - Kathryn De Souza, 1:49.07
Male 40-49 - Douglas Jannusch, 1:32.45
Female 50-59 - Jane Turner, 2:08.25
Male 50-59 - McArthur Thompson, 1:36.51
Male 60-69 - Gary Brathwaite, 2:07.13