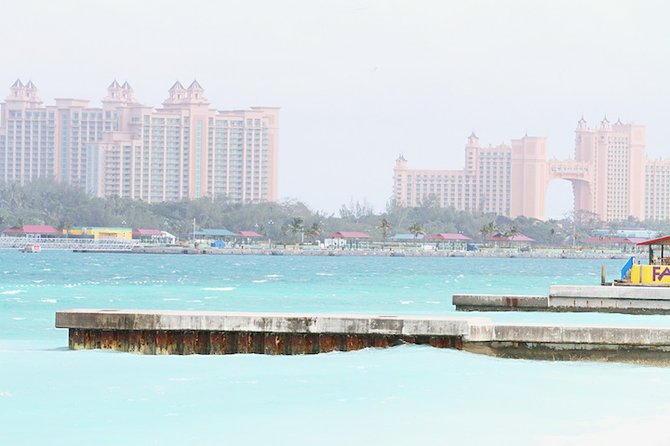 By KHRISNA VIRGIL
Tribune Staff Reporter
kvirgil@tribunemedia.net
A HIGH level government source has confirmed that a broken tugboat was in fact responsible for three cruise ships carrying around 10,000 passengers being unable to dock in Nassau Harbour during rough weather earlier this week.
According to the government insider, the same tug boat had been malfunctioning for six months while officials tried to negotiate to have the necessary repairs made. However, on Monday, when the tug was found inoperable there was no contingency plan in place, to pull the The Allure of the Seas, Carnival Conquest or Disney Dream to the dock, The Tribune was told.
As a result of the situation, which shop owners called a disaster, the business community said their losses total an estimated $700,000 which is not far from what the Florida Caribbean Cruise Association said. According to them, passengers usually spend an average of $640,000 during a day in Nassau.
"This administration must stop dragging its feet," a downtown business owner said. "How is it that the tug boat was not working and they did nothing to ensure that it didn't come to this?
"The idea that they don't take our livelihood down here on Bay Street seriously sickens me. I guess because it's not taking food from their mouth it okay. It's just sloppy how this happened and was handled."
Calls placed to Minister of Transport and Aviation Glenys Hanna Martin and Port Controller, Commander Patrick McNeil were not returned up to press time.
In an official statement on Monday, the Port Department placed the blame for the cancellations on inclement weather. Meanwhile the explanation did not sit well with merchants who insisted that Nassau Harbour is one of the safest docks in the region, proven by the fact that it serves as a safe haven for unscheduled cruise ships during serious storms.
Later on Commander McNeil reported in a statement that the three cruise ships were scheduled to call at the Port of Nassau on Monday, 25th November, 2013, at 6am, 7am, and 8am, respectively. However McNeil said the captains of the Allure and the Conquest decided to cancel in advance their visits to Prince George Wharf because of a weather system which had entered the Northwest Bahamas late Sunday evening.
He also said that the Disney Dream did enter Nassau Harbour at 8am, assisted by the tug 'Snapper' and two private tug boats. However, as the vessel was attempting to dock, it was unable to complete the manoeuvre because of strong wind gusts of approximately 38 knots. The Captain of that vessel decided to leave the Port of Nassau.