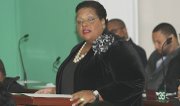 LONG Island MP Loretta Butler-Turner has condemned the Dominican poachers who continue to threaten the livelihood of many of her constituents.
Mrs Butler-Turner said the problem of illegal fishing continues in Bahamian waters despite "enthusiastic promises" by the government to address the matter 18 months ago.
"I speak on behalf of the fishermen of my constituency and for all Bahamian fishermen challenged by the illegal competition perpetrated against them and our country by fishing fleets from the Dominican Republic operating illegally within Bahamian territorial waters," she said in a statement.
"I am told according to some reports, that the minister responsible for marine resources has presently as much as 'thrown his hands in the air', signalling the inability of his ministry and indeed of the government to provide adequate protection to Bahamian fishermen and their livelihood in the face of the incursion of the fishing fleets from the Dominican.
"As recently as today, Bahamian fishermen reported the presence of large 'mother ships' from the Dominican Republic accompanied by fleets of small fast vessels which poach Bahamian marine resources with impunity ignoring Bahamian law and disregarding Bahamian marine conservation initiatives.
"Our fishermen are able to see and locate the offending fishing fleet, but our Defence Force appears helpless to do the same. One is forced to inquire whether the Defence Force patrol fleet is operational," she said.
Given that the minister in charge of the Defence Force said marines are being redeployed to assist police with New Providence's crime problem, Mrs Butler-Turner said the public needs to know whether the country's patrol vessels are adequately and properly staffed with experienced seamen capable of providing protection to Bahamian fisheries.
"Shortly after this government's election some 18 months ago, the Minister of Foreign Affairs led a delegation to the Dominican Republic to win the support of the government of the Dominican Republic for curtailing the illegal activity of that country's fishermen," she said.
"Following those meetings, the minister returned to the Bahamas hailing his negotiations as a great success and predicting a new level of co-operation between the two governments sure to reduce if not eliminate poaching by fishermen from the Dominican Republic."
Mrs Butler-Turner called on the government to provide an update on progress being made toward the reduction of poaching in the Bahamas, specifically by fishing fleets from the Dominican Republic, and by all foreign fishermen illegally operating in the Bahamas.

"The Bahamas fishing sector needs to be informed of measures put in place and those contemplated in the coming months to increase patrols by the Royal Bahamas Defence Force particularly in the major fishing grounds of the Bahamas," she said.