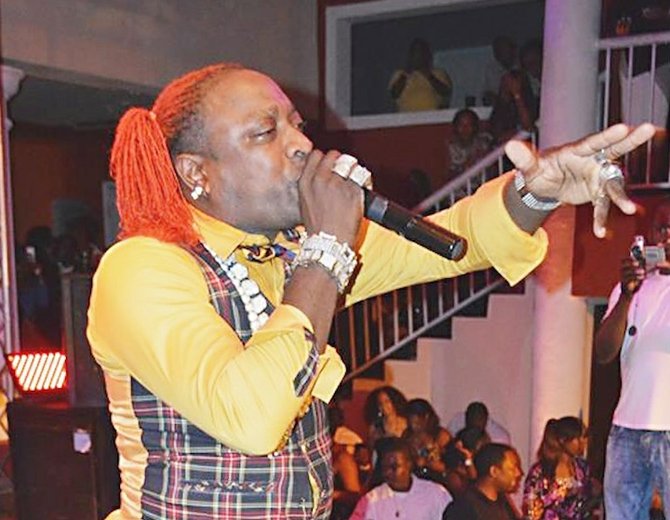 By LESH
Tribune Features Reporter
acadet@tribunemedia.net
DANCEHALL performers Konshens and Elephant Man moved the crowd at Club Luna on Friday with their "more than satisfactory performances".
Konshens then travelled to Grand Bahama to perform for Freeport Dancehall lovers at Club Amnesia on Saturday.
The Club Luna/Club Amnesia double play was presented by Hennessy Artistry Bahamas in association with Fresh Entertainment and Playhouse Entertainment.
Elephant Man ran on stage wearing a bold yellow and plaid outfit, singing hit songs Willie Bounce, Pon Di River and Nuh Linga.
Big L of Playhouse Entertainment and More 94 FM told Tribune Entertainment that Elephant Man came and did exactly what they expected of him.
"I think everyone enjoyed the performances, based on the feedback from social media and people that attended. He brought the energy, classics and comedic relief," said Big L.
Konshens was not too far, as he seemed to have amazed every women in the crowd. When he graced the stage the women rushed to the front.
Konshens performed most of his biggest hits such as, No Hesitation, Gal A Bubble, Stop Sign and Do Somn.
Before the show in an interview with The Tribune at More 94 FM, Konshens said he was happy to be in the Bahamas for the second time around.
"This time it's Konshens and Elephant Man so it is a different level of madness. This time I am also exclusively launching my new shoe line, Konz876, in the Bahamas at Tempo Paris. It's a whole heap of excitement and enjoyment with me and the people of the Bahamas."
Konshens said the fact that he is doing what he loves when it comes to singing and performing, it does not feel like work for him.
"Imagine everyday getting up to do something you love, and you get paid to do it. You start changing people's lives with your music. People send you messages. Give thanks to Instagram and Twitter where people send me direct messages just to say how my songs give them the strength to move on today. And I get paid to do this, so there is no stopping for me right now," said Konshens.
He said his fans can expect lots of new music and collaborations for the remainder of the year.
"I have music coming from me with artists from the Caribbean, North and South America, but I am not going to call any names. I have an album called 'Mental Maintenance' that has been out for almost a year now and we are still pushing that. I am still recording so its also a whole lot of mix-tapes and new songs," said Konshens.
Elephant Man, who called in for the interview, said the Bahamas has a soft spot for Elephant Man because "they know I always bring the energy".
Big L said after this year's BET Awards, where Elephant Man performed during the Reggae session, a lot of people were excited to see him.
Elephant Man said the experience at the BET Awards was crazy because it showed the level of love that people have for Dancehall and Reggae music.
"I just know that I am God bless to be one of who represent our generation of music in this era and it feels great to know that the response that we got was so crazy," said Elephant Man.
Big L said the event on both nights was greatly supported and both events "went well with no issues".
"Both Konshens and Elephant Man send their appreciation to the Bahamas for showing them so much love and they look forward to their next visit," he said.