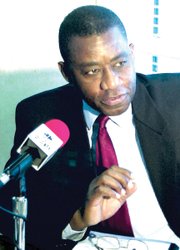 By NEIL HARTNELL
Tribune Business Editor
nhartnell@tribunemedia.net
The US federal government 'shutdown' could have "a very serious and negative effect" on the Bahamian economy, a former finance minister warned yesterday, which was unlikely to "go anywhere near" its 2013 growth projections.
James Smith, who is now CFAL's chairman, told Tribune Business that with 800,000 federal government workers staying home without pay, among the first things to be cut would be spending on vacations to the Bahamas.
Agreeing that the situation would also hit confidence among US private sector employees and investors, causing a reduction in consumer spending, Mr Smith warned: "That could potentially have a very serious and negative effect on the [Bahamian] economy.
"On one hand, we rely pretty heavily on a growing US economy and disposable income, and a shutdown in government closes down the earning potential of those affected, some of whom may have been planning trips to the Bahamas for later this year or in the first quarter of next year, which is the peak of the tourism season.
"This is bad news. Even if the consumer has a job, he may decide not to spend as a tourist."
Mr Smith, a former Central Bank governor who also served as the minister of state for finance in the first Christie administration, added that there could be a significant impact even if the US federal shutdown - and congressional impasse over government funding and ObamaCare - lasted for just a week.
That, he indicated, would be long enough for many Americans, whether they were federal employees or not, to cancel planned vacations and leisure spending/consumption.
"It now creates an air of uncertainty," Mr Smith told Tribune Business. "It could have an effect even if it is short-lived. The first thing the consumer does is to cut their leisure spending.
"This is very serious stuff, and is happening at a time when the world is emerging from one of the deepest recessions ever. This could be very serious, and the seriousness and effect of it will be proportionate to how long the shutdown stays."
The former finance minister added that the US 'shutdown' could also damage foreign direct investment (FDI) into the Bahamas, particularly if second home buyers and developers became nervous and lost confidence in the business climate at home.
And he also noted that the federal 'shutdown' might increase the Bahamas' debt servicing costs on its non-US dollar foreign currency loans, such as those it had borrowed from the Chinese government, as the US dollar was likely to depreciate against other currencies.
The wealth of many Americans has also taken a battering in recent days, with the prospect of a US 'shutdown' sending Wall Street stock prices lower in recent days, although the Dow Jones Industrials recovered some yesterday on expectations that it will be short-lived.
But, with many Americans basing their prosperity on home, stock and 401k (retirement plan) values, any negative impact in this area will also hit demand for a Bahamian vacation.
Mr Smith added that there might be "a lag" between the US 'shutdown' and when the Bahamas felt its impact, suggesting that any hotel booking cancellations might show up in the 2014 first quarter as opposed to late 2013.
The Bahamian tourism industry was already struggling in comparison to 2012, with the Central Bank's July report noting that in the first half there was "persistent softness in the high value-added stopover segment of the [tourism] market, due to reported declines in group business, increased competition from low-cost regional destinations, and some reduction in airlift capacity".
With stopover arrivals contracting, the Central Bank said a data sample from 14 New Providence hotels showed a 6.6 per cent year-over-year room revenue decline for the first seven months of 2013.
The average occupancy rate fell by five percentage points to 69.6 per cent, which "outstripped" the 3.2 per cent increase in the average daily room rate (ADR) to $251.20.
And, with the US 'shutdown' likely to exacerbate these issues, Mr Smith conceded that the Bahamas was unlikely to hit the Government's, and International Monetary Fund (IMF), projections of 2.7 per cent GDP growth for 2013.
"In the beginning I thought they were best case scenario outlooks, really," Mr Smith told Tribune Business of these projections, "and they were assuming a lot of things would happen favourably.
"Things are not working out that favourably, in terms of the macros, with total tourist spending down, so it's quite a challenge to get anywhere near there.
"We really don't need any more shocks to the economy for at least a year to get ourselves out of the hole we're in."