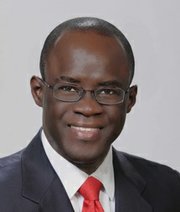 FNM chairman Darron Cash is accusing the Christie Administration of having a "PLPs only need apply" philosophy following the appointment of Arinthia Komolafe as managing director of the Bahamas Development Bank.
He said Ms Komolafe is the former president of the PLP's Women's Association. He claimed her appointment is "immediately noteworthy" as it demonstrates a "double standard" the government apparently has when it comes to "affording opportunities" to Bahamians.
Said Mr Cash: "This Prime Minister and Leader of the PLP and his government believe (and have consistently demonstrated) that on the basis of their professional skills and competence, only PLPs are qualified and can be trusted to hold senior positions in government corporations and agencies controlled/influenced by the government.
"Among those entities are the Bahamas Development Bank, Bank of The Bahamas, National Insurance Board, and the Bahamas Electricity Corporation. FNMs and everyone else almost always somehow lack the skills, professionalism, and maturity. Consequently, under this regime, those FNM — or perceived FNMs — are often frustrated, marginalised, or fired.
"Ms Komolafe's appointment to head the Bahamas Development Bank is another in a long list of PLP appointments that underscore the Christie philosophy of 'PLPs only need apply'."
The party chairman said the FNM "continues to be concerned" that the government is allegedly trying "to target and weed out known or suspected FNMs and professionals appointed by the FNM."
"This style and philosophy of government," said Mr Cash, "is counter-productive to good governance and the requirements for national development.
"A philosophy of national development that inspires all Bahamians to participate is what Mr Christie must be promoting. The Bahamas needs a Prime Minister who truly believes and demonstrates that talented and qualified FNMs are just as good as PLPs and should not be expelled or marginalised in institutions controlled by the government."
On the PLP's official website, Ms Komolafe is listed as assistant secretary of the New Providence Woman's Branch, 2011-2012. Ms Komolafe could not be reached for comment up to press time, last night.