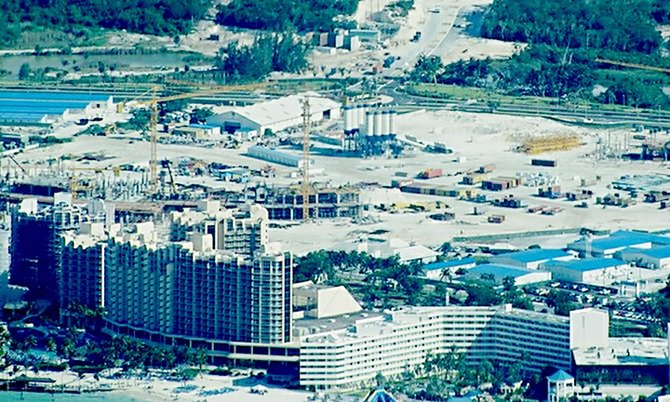 By DANA SMITH
Tribune Staff Reporter
dsmith@tribunemedia.net
Baha Mar executives hope new "critical" gaming regulations will allow the future West Bay Street casino, and the country's gaming industry to compete on a world stage against the likes of Macau, Singapore, and Las Vegas.
Newly announced chief operating officer Paul Pusateri explained the regulations will aid Baha Mar in attracting "high-end gaming customers" to the country and potentially opening the tourism market at more time periods within the year.
Mr Pusateri has previously served as chief operating officer of the Hard Rock Hotel and Casino in Las Vegas and before that, served as president of the Palms Casino Resort and Palms Place in Las Vegas.
At Baha Mar, he will also serve as general manager of the casino – the "crown jewel" of the $3.5 billion resort.
"I think it's critical for us to have the gaming regulations where we need them to be," Mr Pusateri said. "I'm very optimistic that it's headed in the right direction. That's a very critical point for us to have, to really establish what is known as a 'Las Vegas experience' in the casino.
"When we get that and we put together our calendar of events, we will celebrate months and weekends and time periods within the year that we have not been able to market to, before. So we will be able to bring new business and times where we normally don't get business to the island."
Major changes in the Gaming Act 2013 allow for sports betting, in-play wagering and on-line gaming via cell phones.
Robert Sands, senior vice president of administration and external affairs at Baha Mar, said the new regulations also allow gaming to take place anywhere on the resort's premises and would place Baha Mar's casino in an international league.
"That's why the passage of this gaming modernization bill is pivotal to be able to facilitate the level playing field of our gaming thrust – as well as to ensure that we're not being left behind in terms of the competitive nature of the whole gaming industry, worldwide," Mr Sands said.
Baha Mar has already been experimenting with the new regulations under temporary approvals with the Gaming Board, Mr Sands said, naming beach gaming at the Sheraton Nassau Beach Resort and Casino as one example.
"We're beginning to test the concepts and it has been met with very positive guest approval in terms of being able to enjoy both the outdoors and the ability to game at the same time," he said.
Mr Pusateri added that this has been going on for about a month.
"What we will get with the regulations is the ability to (use) the hand-held device," he said. "You could be sitting at the pool, you could be sitting at the lobby, sitting at the restaurant and you have the option to make a wager."
This is similar, Mr Pusateri said, to casinos in Las Vegas. He explained Baha Mar could even become a destination for sports betting.
"There's an incredible number of people that will go from the east coast (of the United States) and go to Vegas to do the Superbowl – a big event because you can bet on it," he said.
"Here, we will have the opportunity to do that if this passes. Imagine about a dozen guys – 'let's go down to Baha Mar for Superbowl weekend' – and not only do we have the game and the wagering for that but we create a weekend of events for all of these players to come down here. We will fill the campus."
If the Bahamas were to pass this legislation, Mr Sands said, this would place the country at an entirely different league from others in the region.
"This puts us in the level with jurisdictions like Vegas, Singapore, Macau – the leaders in gaming, in the world. The others (Caribbean countries) will have to play catch up," he said. "We're not competing with resorts just within this region, here. We're competing on a world class basis."
Earlier this year, Tourism Minister Obie Wilchcombe had dubbed the casino gaming industry as being "fundamentally important" to the country's tourism product, noting that proposed reforms were vital if it was to compete with rival jurisdictions.
He said: "Our legislation is seeking to advance our gaming to ensure that we are offering what is being offered around the world and even better, so that we can attract more people, because tourism is our main industry."
Mr Wilchcombe has also said he believes the hotel property will change the way casino gaming is seen in the Bahamas.