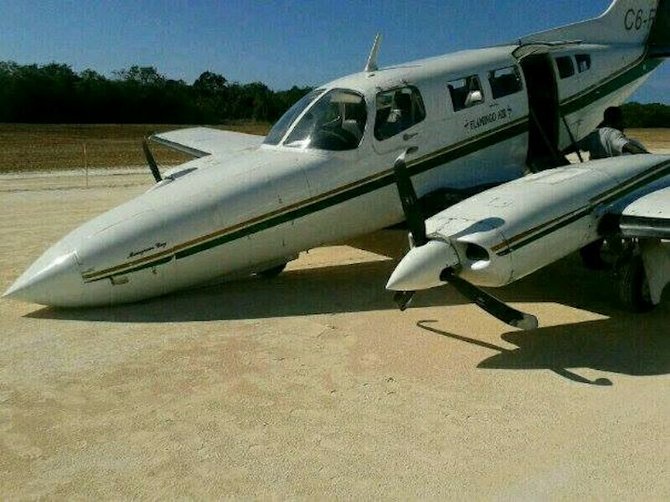 By SANCHESKA BROWN
Tribune Staff Reporter
sbrown@tribunemedia.net
A WESTJET plane made an emergency landing at the Lynden Pindling International Airport,yesterday afternoon after an emergency light, indicating a problem with land gear, came on.
Assistant Superintendent Dennis Dames, officer in charge of the airport police station, said the airplane landed safely at the gate without incident.
"Our information is that a WestJet Boeing 737-800 series plane, was coming from Toronto, Canada, on its way to the Dominican Republic, when they had to make a detour here in the Bahamas. A light came on indicating something was wrong with the landing gear so the plane was diverted to the Lynden Pindling International Airport here in the capital around 1pm and landed safely," he said.
"Fire services were in place and officers from the police station were in place, our people were on the ground ready in the event of an incident. The passengers were taken off the aircraft until it was determined what the problem was. So far everything seems to be in order, no one was hurt. We spoke to the pilot and he said initially there was a report that smoke was in the cockpit, but what really happened was that around 12:55pm, a wheel well light came on, indicating something was wrong with the landing gear. They came here because it was the nearest airport and they will remain here until they are satisfied that everything is taken care of."
This incident comes two days after a Flamingo Air plane made an emergency landing after it experienced an issue while landing at the Mayaguana airport.
According to a statement from the Ministry of Transport and Aviation, there were no passengers on the Cessna 402 aircraft at the time of the incident and the two pilots on board were not injured.
The ministry said the Flight Standards Inspectorate is investigating that incident.