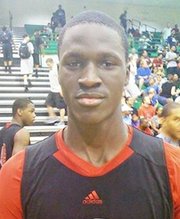 By RENALDO DORSETT
Sports Reporter
rdorsett@tribunemedia.net
THE health and eligibility of Wannah Bail for the upcoming 2013-14 UCLA Bruins basketball season was one of the major topics of conversation for head coach Steve Alford when he addressed local media last week following a pre-season practice session.
Alford said the programme is still awaiting an official ruling on a transfer waiver from the NCAA on Bail after he signed a financial aid agreement in June, officially declaring his intent to join the Bruins.
"As far as eligibility, no update. We are waiting to hear on Wannah and hopefully get information on that really quickly. Again, that's on the NCAA. I don't know the time frame on it. Obviously...I hope it's sooner rather than later," Alford said courtesy of UCLA Athletics.
"When you look at some of these other cases that are coming forward and eligibilities are being restored, we are hopeful but again, that's in the hands of the NCAA. We just have to wait and see."
Bail had surgery to repair torn cartilage on his knee on June 28 and was originally given a four-month schedule timeline for a return to the court.
"He's probably three weeks away if I'm just reading into the doctor's reports. He's probably three weeks away from being released to do some things, and probably four to five weeks from being 100 per cent. So, hopefully we can get a ruling on him. If it's not a favourable [NCAA] ruling, the aggressiveness of it may back off a little bit.
"Hopefully, we can get a favourable ruling so that the rehab can aggressively take place. This happened right when he got to campus. He hasn't done a lot since he joined our family because of the injury," Alford said. "We obviously know about him because we saw him play in high school and those types of things, and he adds to our inside. That's where we have some concerns. We just aren't that deep on the front court because you've got the Wear twins and then Tony, and Wannah would really help with the depth of our front court. Very athletic. Very good presence. He can play mostly inside, but he can go to the perimeter and play. He gives you a big man like the Wear twins who is a little more versatile."
Alford signed a seven-year, $18.2-million contract in March to become the head coach of the Bruins, replacing Ben Howland who led UCLA to three Final Four appearances.
At 6'8" 210 pounds, the versatile Bail was one of the top frontcourt prospects out of the state of Texas for the class of 2012 and eventually decided on Texas Tech, but has yet to suit up for an NCAA contest.
Bail was one of 15 players or staff members to leave the Red Raiders programme under controversial head coach Billy Gillispie. He left the programme following the first summer school session, just before the start of fall practice and spent the past season at a prep school in the Canary Islands, virtually non-existent on the recruiting trail until just recently.
Bail was cleared by the NCAA in April and was granted a release by the Red Raiders shortly after.
Bail had been a blue chip prospect on the high school basketball scene in Houston, Texas, for the past few years since he joined the Frank Rutherford Elite Development Programme.
He selected to stay "in state" after being suited by recruiters nationwide and sought after by a virtual who's who list of NCAA programmes. He received offers from Houston, Arkansas, Auburn, FSU, Texas, Baylor and Kansas.
He was ranked 89 out of a possible 100 points by ESPN.com, 35th among players at the position and 22nd overall in the state of Texas.
Bail left the Bahamas and attended a number of schools in the Houston area, ultimately landing at Lamar Consolidated in Rosenburg, Texas. He attended Trent Internationale School but had to transfer to Fort Bend in Austin, Texas, at the start of his senior season where he was ruled ineligible to compete in the Houston area and settled on Lamar.
He played on the AAU circuit for the Franchize All-Stars and was a member of the Bahamas' 2011 FIBA Americas U-16 Championship team where he averaged 17.4 points and 14.2 rebounds per game.