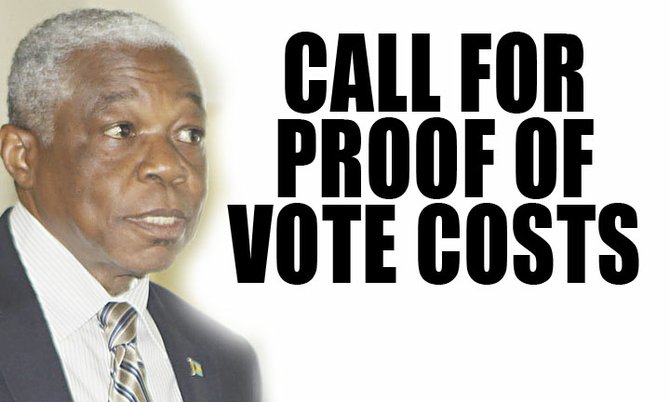 By KHRISNA VIRGIL
Tribune Staff Reporter
kvirgil@tribunemedia.net
FNM leader Dr Hubert Minnis yesterday urged the government to table in parliament records documenting a complete breakdown of the costs associated with the gaming referendum.
His comments came as National Security Minister Dr Bernard Nottage backtracked on his announcement that the vote which sought to legalise the numbers business, which he first pegged at more than $5 million, actually cost taxpayers $1,238,092.95.
Last week, Dr Nottage told reporters that the referendum's expenditure was around $5 million, quite a leap in figures from Prime Minister Perry Christie's estimation weeks earlier that it cost more than $1 million.
However, in a press statement yesterday, Dr Nottage, who is responsible for the running of elections and referendums, said he regretted the misunderstanding that he might have created.
"On Thursday, October 3rd," he said, "when questioned about the cost of holding the National Referendum on Web Shop Gaming and a National Lottery in January, I inadvertently gave the figure of $5 million. Almost immediately, I told the reporters, who were from the Broadcasting Corporation of The Bahamas, Cable TV 12 and The Nassau Guardian, that I was uncertain about the actual amount.
"Nevertheless the figure was published in The Nassau Guardian in its Friday 4th edition. As a result, in a note that I wrote to the author of the article and to his superiors on another matter, I pointed out that I thought it was unfair for them to have used that figure.
"I wish to point out that I am now in possession of the exact figure, which has been provided for me by the Parliamentary Registration Department."
The differing comments sparked calls from Dr Minnis on Sunday that Mr Christie should resign as Minister of Finance because it appeared that he did not have a handle on the country's finances.
"If Prime Minister Perry Christie cannot handle Finance as his portfolio he should step down and appoint someone who is capable of managing the country's money," Dr Minnis said.
He further questioned who was in control of the country's finances, if Mr Christie was unable to give an accurate account of the people's money.
"One has to wonder whether the Prime Minister is deceiving the public or does he simply not know what is going on with the people's money.
"Who is at the wheel? Since both Mr Christie and Dr Nottage have different reports of the gaming referendum expenditure, are all the other departments and ministries spending more than the Ministry of Finance knows about? Are various departments running rogue and left up to their own devices?" Dr Minnis asked.