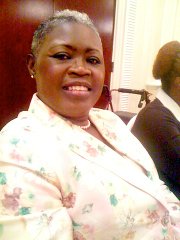 By JEFFARAH GIBSON
Tribune Features Writer
jgibson@tribunemedia.net
A DIAGNOSIS of stage one breast cancer was not the end for survivor Helen Rolle. Since her diagnosis nine years ago, Ms Rolle has turned to advocacy, encouraging women to take proactive approaches to their health. Ms Rolle believes she has yet to fulfil her true purpose and is determined help people understand, they must be stewards over their lives. Her life is testament that anyone can beat the disease.
Like most people, Ms Rolle was terrified when she received the results of her biopsy. She was diagnosed with breast cancer in November 2004. Fortunately, the cancer was detected in its early stages.
An abnormal occurrence was what propelled Helen to seek medical attention. "I woke up one morning and I noticed there was a discharge from by breast on my night gown. It was strange to me so I did not waste anytime finding out what it was," said the former teacher for 36 years at SC McPhereson Junior School.
"I went to the doctor and did a mammogram. Shortly after, I did the biopsy and the results were stage 1 breast cancer. The doctor gave me my options and I told him to take the breast off," she said.

After much preparation Ms Rolle underwent a successful mastectomy in January 2005. The mastectomy was just one of several surgeries she underwent. During the time of her diagnosis with breast cancer she was also battling an issue with her heart.
"I have been through so many things in my life where my health is concerned. So undergoing that procedure was just another battle I had to fight," she said.
Throughout her entire journey Ms Rolle remained positive about the outcome. There were times when she dwelt on a hopeless future however her strong faith in God reassured her that good would be the only outcome.
"I am not going to say that it was all easy because there were times when I did not feel well and my joints became stiff. I learnt to deal with everything and not complain. You just have to have a positive mind and that was what gave me a sense of direction as well.
"My life has changed so much. I approach things differently. I have better compassion for people so it has really given me a different look on life. It also reminded me that today you are here and today you can be gone," she said.
Ms Rolle is the secretary for the Sister Sister Breast Cancer Support Group in Nassau. She learned of the organisation through her doctor's office and joined the group.
"It was really the source and help for me. They helped me throughout the rough times. When you have questions you can call anyone. The doctors could not relate to me; even though they perform the surgery, they have not walked the road. So the support system mattered. I implore any woman who is going through something like this to get a support system. We find that there are a number of women who are diagnosed and do nothing about it. They hide, they do not take care of themselves and when they do show up sometimes it is too late," she said.
Ms Rolle considered the support group a blessing because whenever she was unsure she called a sister who was able to encourage her and give her useful advice.
Over the years, Ms Rolle said she has seen many women pass through the doors of the support group. She intends to remain closely connected to the group and be a shoulder to lean on for someone else.
"If I can help someone as I travel along, then my life was worth living. I continue to be a mouth piece and an advocate for breast cancer.
"Whenever I have the opportunity to speak to the ladies who are diagnosed with breast cancer I tell them, you gatta beat it. I let them know that it is important to get involved to do something with their lives. It helps a lot. The truth is there are a lot of women who do not know what to do or the next move they should take. I am able to help in that way.
"I have heard some young women say things like if they cut their breast off their boyfriends will leave them. But we have to teach these young women to love themselves because you cannot put no one else before you. I am just so passionate about it because women need to take care of themselves and realise that it is about them. We need to love ourselves and take time with ourselves," she told Tribune Health.