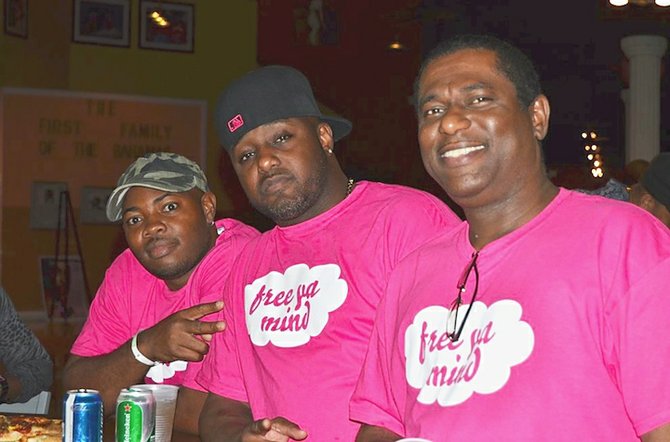 By ALESHA CADET
Tribune Features Reporter
acadet@tribunemedia.net
CALL IT a party or an anniversary, either way, the talk of the town as the holiday weekend approaches is 100 Jamz and its 20th anniversary.
"As far as a broadcast entity goes, we have gone from just a Tribune radio station to now a Tribune Radio Network where we have a total of five stations that we manage and operate, so that in itself is a milestone that we are celebrating. We are not just celebrating the existence of 100 Jamz, we are also celebrating the growth and expansion of what is Tribune Radio as well," said AC, 100 Jamz operations director.

This weekend, AC, along with the 100 Jamz team will transform the Bahamas Fast Ferries into a "Jamz Party Boat" as they travel to Harbour Island for the island's annual regatta festival.
"We have partnered up with the Bahamas Ferries and Kalik to host this 100 Jamz day-away party in Harbour Island. We are going to be doing a series of bar hopping parties with Kalik and we will be hosting for the first time, the regatta's beach party, which is an annual event during the festivities. We will also be hosting an evening block party at the regatta site," said AC.
Several members of the 100 Jamz team will join the party, including Special K, Natural Empress, C-Note Reality, along with deejays from other stations.
"We just plan to have a whole lot of fun. We have a lot of prizes that we are going to give away; promotional items, t-shirts and many more. We want the regatta celebration to dictate where it goes. Of course we will be broadcasting from the boat before we leave and as we sail over, we will be doing some broadcast from the boat as well," said AC.
On October 12, 1993, 100 Jamz became the country's first private radio station. Today it is ranked number one in the nation.
Going on air and bringing to an end the monopoly on government broadcasting was one of the station's biggest accomplishments.
When the station started, one of its flagship programmes was "The Eric and Ed Show", a humorous wake-up show hosted by well known Bahamian personality Ed Fields and Eric "D" Ward, a top US trained radio personality with roots deep in the heart of Rum Cay.
Twenty years later, Eric Ward remains with the station, now serving as general manager.
Through new faces, new talent and new triumphs, 100 Jamz has evolved for the better.
Apart from this weekend's festivities, 100 Jamz will also play host to official anniversary parties. There will be a comedy show that features international comedian Rickey Smiley next Saturday at the Sheraton Ballroom.
"The comedy show is pretty much the highlight and culmination of our anniversary. We decided to get one of the best comedians out today, Rickey Smiley. We didn't want to do a concert for the anniversary party, we wanted to do something that geared more towards a party. So we decided to just do the comedy show and just an after party that is going to feature a lot of local acts instead of bringing international acts over for a concert," said AC.
"We've got the Sky Juice Band, they are going to be one of the main features along with Dillon and the Rhythm Band. M Deez is also going to be performing that night at the after party. Everything is going to be at the Sheraton Ballroom, so we are actually taking the ballroom, and one side is going to be the comedy side of things and everybody will move to the other side where we will have the stage set up for the bands," said AC.