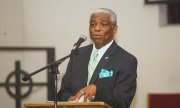 By KHRISNA VIRGIL
Tribune Staff Reporter
kvirgil@tribunemedia.net
WHEN Parliament reconvenes today National Security Minister Dr Bernard Nottage says the complete breakdown of taxpayer dollars spent on the January 28 gaming referendum will be tabled.
Dr Nottage insisted yesterday that the move had all to do with his integrity as a politician and not with the FNM's repeated calls for the information to be made public.
The FNM demanded on Tuesday that the government table the document just as Dr Nottage backtracked on a statement, which he claims was inadvertently made, that the referendum cost $5 million. In a press release, he said he was advised that the correct expenditure was $1,238,092.95. 
Asked if he could shed more light on exactly how his estimate was off by about $4 million, Dr Nottage would only reiterate that he made a mistake. Neither could he say how much was spent on the UK consultants hired to advise the government on gaming in the Bahamas.
"I have corrected myself," he said, "I have made a mistake and it doesn't matter why the mistake was made. It doesn't matter why the mistake was made. It was made, it was regrettable. I think that it could have been handled differently by the press, but I understand and so I accept it. I am not commenting any further on that matter.
"It (the tabling of the expenditure) has nothing to do with the FNM. Me as a politician, I am very protective of my integrity and nobody has to ask me to table it. I will table it tomorrow morning.
"It will give a break down of just how the money was spent."
He was speaking to the media just after addressing the Rotary Club of Nassau's monthly meeting.
Public debate was sparked when it was realised that within weeks of each other Dr Nottage and Prime Minister Perry Christie had given different estimates of the cost of the controversial referendum. Mr Christie, who is also the finance minister, had said that the cost was more than $1 million.
Later, the FNM called for Mr Christie's resignation as Minister of Finance, claiming that it appeared that he was not in control of the country's finances.
Dr Nottage is Minister with responsibility for overseeing the running of elections and referendums.