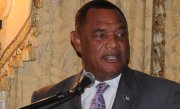 By KHRISNA VIRGIL
Tribune Staff Reporter
kvirgil@tribunemedia.net
FOR the first time in history, the Bahamas will officially celebrate National Heroes Day, formerly Discovery Day, Prime Minister Perry Christie announced yesterday.
In addition, Mr Christie said, a new holiday – Majority Rule Day – will be observed on January 10, beginning next year.
Both days will be officially proclaimed by Governor General Sir Author Foulkes during a public ceremony at Government House tomorrow.
Speaking in the House of Assembly, Mr Christie said: "I am therefore so very happy, Mr Speaker, to be able to stand before you and before the people of our country to let it be known that come January 10 of next year, and for every year thereafter in perpetuity, January 10 will be a public holiday in the Bahamas; a public holiday to recognise and reflect upon the greatest, most defining moment in all of Bahamian history: the attainment of Majority Rule on January 10, 1967.
"(And) when we celebrate National Heroes Day, formerly known as Discovery Day, on Monday of next week, we will be doing so for the very first time under the legal umbrella of an Act that statutorily creates 'National Heroes Day' and declares it to be a national holiday to be observed on the second Monday in the month of October of each year. 
"This Act also creates the formal machinery for the selection and recognition of our National Heroes. This, of course, is the group of persons, be they living or dead, for whom the nation's highest honours will be reserved."
Further, the government is expected to compile a list of persons to comprise the advisory committee under the Act.
They will be charged with identifying and investigating citizens who should be recommended for the honour of 'National Hero of the Bahamas', a status that will carry to be known and addressed as "Right Excellent".
The Advisory Committee will consist of seven persons, including two members of each House of Parliament.
"It would certainly be my wish that there be one nominee from the government and one nominee from the opposition in each of the House of Assembly and the Senate. This will ensure optimal balance and parity.
"We really do need to take partisanship and political prejudice out of the selection of our national heroes," Mr Christie said.