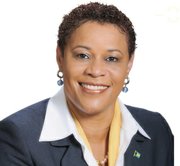 By DANA SMITH
Tribune Staff Reporter
dsmith@tribunemedia.net
FOLLOWING complaints from taxi drivers about the lack of designated parking spots on Bay Street, State Minister for Transport Hope Strachan assured them the ministry is "cognisant" of the problem and has already taken steps to correct it.
She explained that the lines designating taxi spots were covered over when the street was recently re-paved.
Ms Strachan said the Transport Ministry has contacted the Ministry of Works over the issue, and has been told the taxi markings will be back on the street "in short order".
"We are very, very cognisant of the value of the marked taxi allocations for the taxi drivers on Bay Street and not only to them, but in terms of even commerce on Bay Street," Ms Strachan said.
"Last year, immediately on receiving complaints from them that there were no spaces which had been remarked for them, we immediately proceeded to have it done and it was done within a matter of days.
"However, Bay Street has been re-paved recently and unfortunately the markings were paved over. However, I must say, we have already approached the Ministry of Works about replacing those markings. We understand the urgency of it and the value of it to those taxi drivers and we have been assured by the Ministry of Works that the markings will be put in place in very short order.
"We're looking forward to that and we are going to be pressing them on that issue because we know that it is an inconvenience to taxi drivers as well as those persons down Bay Street, the visitors who need to access the taxi cabs, as well."
Taxi drivers complained about the issue in the press last week.
Sam Williams, president of Bahamas Loving Care Association, said: "We've spoken to everybody in authority and they say they gon' do it, they gon' do it, but haven't done anything. I'm asking the Prime Minister to do something so we could carry bread to our family. The situation down Bay Street is that we have no place to park. Taxi stands have not been placed back. There are no taxi markings for us."
The taxi drivers said until the markings were removed, they had 37 spots designated for them. Driver Edney Neily added: "At least give us about 25."
However, down-town staff of various businesses said they do not want taxi drivers to be given designated parking areas.
It was suggested that there should be a taxi stand on Bay Street from which a taxi – parked in a taxi line off the main street – could be called when needed.
Gevon Moss, of the Downtown Nassau Partnership, said via e-mail yesterday, he has been advised by the Ministry of Works and Urban Development that parking striping and markings "will commence soon, now that the paving is completed."