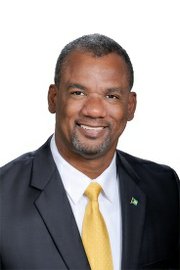 HOME-based programmes are being implemented in Family Islands where children do not have access to early childhood education.
The move became possible through the establishment of the Parent Outreach Initiative (POI) by Early Childhood Education (ECE), a subcomponent of Investing in Students for the Innovative Reform of Education (INSPIRE).
Education, Science and Technology Minister Jerome Fitzgerald presented instructional and didactic materials to Alfred Gray, Minister of Agriculture, Marine Resources and Local Government and MP for the MICAL constituency, for children ages 0-3 years in Mayaguana and Acklins who are enrolled in the infants and toddlers POI, during a ceremony on October 4.
One of the goals of ECE is to provide interventions for children on the Family Islands that do not have access to early childhood education.
The islands of Mayaguana and Acklins met the criteria of a justifiable population of the identified age group and therefore qualified for the POI.
Mr Fitzgerald said: "Today, we have started a life-long journey in investing in the earliest stage of child growth and development, and it is our intention to provide this programme to as many islands as possible.
"Minister Gray, we are pleased that you are here to represent the first recipients of such a sound, high quality programme where opportunities will be provided for interaction between parents and infants and toddlers thus providing wholesome relationships care and education for the children in the MICAL districts."
Sponsored by the government and the Inter-American Development Bank (IDB), the initiative will allow parents to be trained in aspects of early childhood programmes that will equip them to facilitate home based programmes for children.
Beginning in November, parents will meet three times per week in a community/church, centre or home to exchange ideas under the guidance of trained parents.
Along with Mayaguana and Acklins, the programme will also be introduced in Sweetings Cay, Grand Bahama and Andros.
Agatha Archer, Assistant Director of Early Education (pre-school section) extended a plea for the sustainability of the programme.
"We know that if we target this age group then we are going to be able to build that foundation so solid that we would have better results at the end of the day," Mrs Archer said.