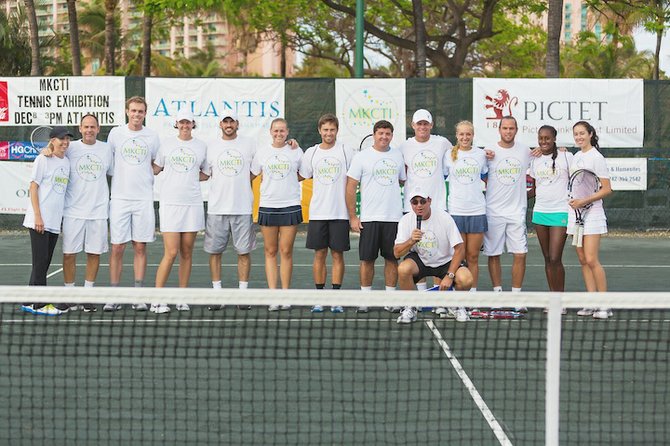 The 13th Mark Knowles Celebrity Tennis Invitational is all set to be held at the Atlantis resort on Paradise Island November 21-24.
This year's event "promises to be as exciting as ever, so make plans to come and watch, participate in the Pro Am or become a sponsor with options available starting at $1,000 to include invitations to a reception and spectator tickets to the Professional Tennis Exhibition," according to a press release.
The exhibition is slated for 2pm November 23 at the Atlantis Tennis Centre.
"The event, true to its mission of raising money for several children's charities, has to date raised in excess of $850,000. Past recipients include The Sassoon Paediatric Heart Foundation, The Association of the Physically Disabled, The Cancer Society, The Boy Scouts of the Bahamas, The Special Olympics and various scholarships for promising junior tennis players.

"A children's defibrillator was donated to a local hospital and The Cancer Caring Centre honoured his work by dedicating a room, naming it 'The Mark Knowles Room'. A winning combination of hard work by the "star" team of Mark Knowles, his sister Samara and mother Vicky provides the foundation for each successive year.
"This has encouraged a vast amount of generous support by sponsors, participants, friends and fans who follow this event year after year providing a testament to the team's dedication and who, between them, provide the funding and support that makes the whole thing work.
"Knowles has over the years invited fellow tennis professionals to relax and play in our Bahamas. Their generosity in giving their time and enthusiasm has helped give this tournament its well-deserved reputation of excellence.
Major tennis stars over the years have supported the event and have certainly given the Bahamian and tourist fans a great deal of enjoyment, including the ability to interact with them up close and personal.

The list of players has included Andre Agassi, Jim Courier, Fred Stolle, Sabine Lisicki, Andy Roddick, Sam Querrey and 2013 Wimbledon champion Andy Murray, to name a few.
For information on scheduling, participation, or tickets, please contact Vicky Knowles Andrews @ 242-357-9670 or email:
mkcti.info@gmail.com website: www.markknowlescharity.com