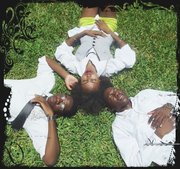 By LESH
Tribune Features Reporter
acadet@tribunemedia.net
BAHAMIAN entrepreneur Kendra KayGeni James has expanded her talents from the world of modelling and clothing design into the music world.
Music has always been Kendra's number one passion, even though she has flourished in the field of modelling and clothing design.
Her clothing line "Thatch Collections" is defined by its "sexy and simple" designs, intended to make woman can feel "confident and comfortable".
In April, she strut on the regional runway in Caribbean's Next Top Model (CNTM), a televised reality show. The show is known as the regional franchise of the internationally acclaimed Next Top Model series by American Tyra Banks.
The best advice Kendra said she received while on the show was to just believe in herself and what she has to offer.
"I've learned to embrace every single thing about me, good and bad. My flaws are part of what makes me, me," she said.
Kendra said she has been involved in singing for as long as she can remember. Her first performance was an arts festival at her old primary school a few years ago. After this event she knew singing was to be in her future.
"My passion for entertainment grew as I got older. I've worked with numerous producers and musicians from around the world and plan on continuing on this amazing path to my dream," said Kendra.
Kendra now works along with a band called "Haeven". She said their style of music is a mixture of RnB, Pop, Hip-Hop and Rock. The band's first official single "Right There" is currently available in online music stores. The band writes, produces and records all of its music.
"A lot of our music is written from personal experiences and is filled with emotion. 'Right There' is a sexy, flirty fun song that shows the more light hearted side of Haeven. There will definitely be a music video for Right There. We are currently in the production process of our video and will hopefully start shooting very soon," said Kendra.
The band members that make up "Haeven" are Gary Francis Jr on lead guitar, Ryan Francis on guitar, Darell Cash on Bass, Kevin Williams on Keyboard, Jeff Williamson on drums and Kendra on lead vocals.
Haeven can be found performing every Tuesday night at Hammerheads Bar and Grill on East Bay St at 9:30 pm.
"We also play every first and third Monday at the Daily Grind. We recently performed last Saturday at The Little Pink Party. Being on stage is something we enjoy and we look forward to doing more, not only here in the Bahamas but internationally as well," said Kendra.
Whether she is in front of the microphone or behind the scenes, Kendra said she will be involved in music for as long as she possibly can.
"The doors are opening up now more than ever for Bahamian music artists, and Haeven is ready to take advantage of any great opportunities afforded to us. We are confident in our abilities and what we have to offer," said Kendra.