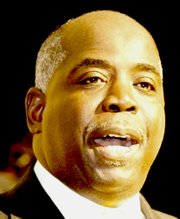 THE decline of the extended family in the Bahamas has led to more and more senior citizens being abandoned in their years of need, Deputy Prime Minister Philip Davis said.
Speaking yesterday at the opening of the Demetrius Home and Care Centre in the Fox Hill community, Mr Davis thanked Minister of Social Services Melanie Griffin for her attention to the plight of the elderly and other vulnerable groups.
"I congratulate Minister Griffin for the activities to date in observance of Older Persons Month and I fully support the efforts of her ministry in ensuring that the needs of this segment of our population are not only known but adequately addressed," Mr Davis said.
"Indeed, these efforts have resulted in us being here this morning to officially open this centre, which provides residential care for older persons."
Mr Davis noted that on International Day for Older Persons, which was observed on October 1, the United Nations Secretary General indicated that by 2020, the number of older persons will be twice the number of children in developed countries and in developing countries.
"It is imperative therefore that our country comprehends the implications of this eventuality and prepares for it.
"Years ago, it was the norm in the Bahamas for older persons to be accommodated in the homes of relatives and this was especially the case when they were unable to continue living on their own.
"Regretfully, in New Providence in particular, this has now become the exception rather than the rule and numerous theories have been advanced for the decline in the extended family structure, which has resulted in more older persons either living on their own or in need of residential care.
"We are also aware of the advances in health care and the improved standards of living, that have resulted in persons living longer, which we welcome and applaud, but when this is coupled with the decline in the extended family and care of older members, the need increases for special housing and a network of community based assisted living facilities like the Demetrius Home and Care Centre to accommodate older persons who can no longer live on their own and whose families are unable or unwilling to care for them."
Mr Davis stressed that as both the government and the private sector seek to meet the need for residential care facilities for older persons, they must ensure that these provide the level of care that is deserved while emphasising the protection of rights and dignity.
"They should not be places where older persons are only provided with a bed and basic meals but they should be places with there is stimulation and interaction both within and outside the facility," he said.
"There is often the myth that once persons attain a certain age they are incapable of remaining active and should be withdrawn from society. This is a myth we do not want to perpetuate."