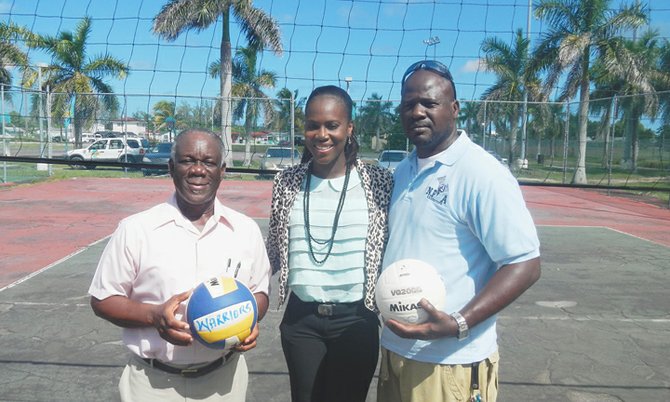 By RENALDO DORSETT
Sports Reporter
rdorsett@tribunemedia.net
THE Johnson's Lady Truckers Cherrybombs have joined the fight as ardent supporters of Breast Cancer Awareness Month, and are all set to host their inaugural "Volley For the Cure" at the DW Davis Gymnasium tonight.
The club plans to raise $1,500 on the night, with full proceeds donated toward the Sister Sister Breast Cancer Support Group.
In the women's feature, which begins at 7pm, the Cherrybombs are slated to face off against the Central Gas Cougars, while in the men's division, the Warriors are pegged to face the Champions.
The teams will be outfitted in new pink uniforms to show their support for the cause on the court.
"We decided to host such an event in support of all the women that are fighting or are survivors of breast cancer," said Cherrybombs team member Kelsie Johnson. "The idea behind 'Volley for the Cure' is to join in the support and to reach out to these organisations. This is our first venture as a club and we look and hope to do more as we look to partner with other schools and civic groups."
In addition to the pair of games, the night will be an interactive one for fans, filled with gift give-a-ways and skills competitions.
There will be a raffle with a myriad of eligible prizes, including a Samsung tablet, phone cards, gas vouchers, a one day pass with personal trainer at Mystical Fitness, and a gift certificate to ProActive Chiropractic and Wellness Centre, among others.
Manager of the Warriors and event sponsor (Texaco, Independence Highway), Oswald Moore, said he was eager to partner with a cause which has had a direct impact on his personal life.
"Breast cancer has affected all of us. My sister is a survivor, my mother in law is a survivor and I know that some of the ladies that I coached have been touched by it. One has passed on and another is surviving right now, so whatever we can do to help, we will always be happy to do so," he said.
"I'm happy to be a part of this event. The Warriors is a new club which has just recently formed and this 'Volley For the Cure event is a good idea for us and for the league."
Germaine Adderley, public relations officer for the New Providence Volleyball Association, said he has also been personally affected by the disease.
"Personally, I am so passionate about this because my mom died of breast cancer. Volleyball is a very exciting sport and this night will be a special one because it is for a special cause," he said. "We are going to have some exciting play on the court and this is going to be a 'can't miss' event."
The club will also pay homage to Sister Sister Group president Andrea Sweeting and various survivors.
"It is very exciting, just to know that for another year somebody is thinking not only of the sisters but of our community because we realise that whatever is done for us is going to affect someone in the community," she said. "This is happening because of the mere fact that our women are being diagnosed so very early with breast cancer and we have this opportunity to assist them. We wish we can do more, but we know for a fact that every little helps and so we are pleading to the public to come out support and have some fun, because that is what this in, fun and games. We want the public to have some fun while you help to assist somebody else."
The Sister Sister Breast Cancer Support Group is a non-profit support group of some 200 women between the ages 20 to 70 years of age, who have been diagnosed with breast cancer. The group was founded in September, 2000, by Dr Locksley Munroe, Dr Charles Diggiss and nurse Charlene McPhee.
In addition to its New Providence office, the organisation also has a Grand Bahama branch and a presence in Andros. There is also a close relationship with the Cancer Society, Eleuthera branch. Its long term goal is to establish branches in each Family Island.
The group also raises funds which are used primarily to provide port-a-caths to women who have been diagnosed with breast cancer. A port-a-cath is used for patients who require frequent or continuous chemotherapy administration.
On average Sister Sister provides approximately six to eight ports per month at a cost of $550 each.
Additionally, Sister Sister also assists with medical screening such as mammograms, ultra sounds, and CT Scans, MRIs, PET CTs, and blood work-ups.
The organisation has also assisted with the purchase of oral chemotherapy medication such as Arimidex, Tamoxifen and Femora.
"Our women have been diagnosed, they cut away the cancer, and then they have no one to talk to," Sweeting said. "So we are able to share our joys and our sorrows with each other and that's what the support mechanism is all about."