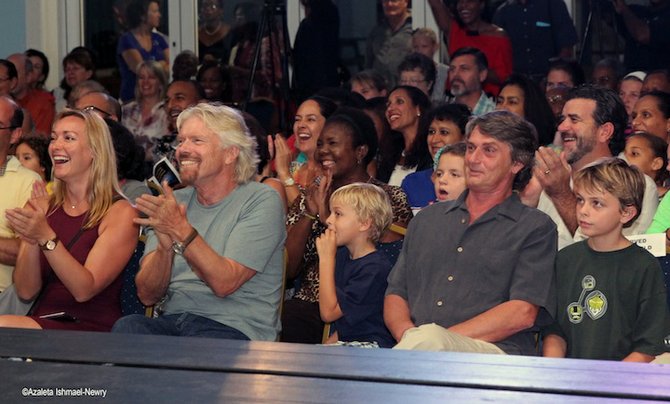 By AZALETA ISHMAEL-NEWRY
IT WAS the album that launched Virgin Records 40 years ago in 1973 and sold more than 17 million copies worldwide.
It was rewritten to a jazzier swing style for the 2012 Olympics opening ceremony where the composer performed before one billion people.
Now, the famous Tubular Bells has been adapted for school children as Tubular Bells For Schools.
It premiered at St Andrew's School with the two men – English composer and musician Mike Oldfield and Sir Richard Branson, founder of Virgin Records in attendance.
In 1973, the collaboration between Mike Oldfield and Sir Richard Branson ignited when Oldfield just 19 years old and Virgin Records was just being established by a 22-year old Sir Richard. The success of Tubular Bells launched Virgin Records.
The album later won a coveted Grammy Award for Best Instrumental Composition of which an excerpt was later used in the film, "The Exorcist."
The launch of Tubular Bells For Schools took place on October 17, when it was played on piano by 15-year-old Jason Ren, a 10th grade student at St Andrew's School.
It was inspired by the request of St Andrew's principal, Dr Glenn Canterford, who, encouraged by Oldfield's previous support of the school's music department, asked him to contribute to the opening of the school's new hall.
"The idea came to my mind of making a new arrangement of Tubular Bells for piano that could be used by students to learn to play, and as an introduction to rock instrumental music," said Oldfield.

"Tubular Bells is not so complicated. It is a different approach to music than pop, rock or rap and, with a little effort, it can be performed by anyone with a little musical talent."
Jason Ren's accomplishments include winning fourth place at the 2013 World's Pianist Competition at the Kennedy Centre in Washington, DC.
He has also won three consecutive years at the annual National Arts Festival.
Under Oldfield's direction, he mastered Tubular Bells For Schools in just three weeks.
Jason's seamless and passionate rendition of Tubular Bells For Schools on piano captivated his audience, which included his parents, Cynthia and Ren Xun, and sister Megan.
"At first I was worried that I would not have enough time to master it," said Jason, "but I practiced an hour a day. It was a lot of fun doing it and I am really honoured to have played it."
Mike Oldfield's delight was evident during Ren's performance.
He said, "Jason is a fantastic talent who did a wonderful job on the arrangement."
Sir Richard Branson, the English business investor and founder of the Virgin Group that consists of more than 400 companies including Virgin Atlantic Airways, thoroughly enjoyed the performances.
Impressive talents included Jason Ren and Angelique Sabrina, who sang the Bahamas' national anthem.
Other performances included skits, song, dance and music from the school's students and teachers.
Sir Richard said: "I flew in for the special performance, to have a few drinks and enjoy the talents of the school."
TThere was an official ribbon cutting by students Jason Ren and Kimberley Darville, and Mike Oldfield, Sir Richard Branson, LeRoy Archer, the school's Chairman, its and principal, Dr Glenn Canterford. A Junkanoo rush-out was the finale to the evening.
In May 2011, St Andrew's School established its 20-20 Strategic Plan.
"Our overall aim is to gain recognition, not just as the best school in rhe Bahamas, but as one of the leading International Baccalaureate schools in the Caribbean, if not the Americas," said Dr Canterford.
The principal boasts of having amazing teachers, "off the chart" results in the Bahamas General Certificate of Secondary Education examinations and great facilities for the students.
Over the years, parts of the campus have been upgraded to include music and Spanish rooms in the primary school section, an arts room in the secondary school section and, lately the rebuilding of the school hall.
"Now this is the first stage and hopefully we will make the rest of the campus this kind of standard," said an enthusiastic Dr Canterford.
Noting how well-known St Andrew's School is for its sporting prowess, the principal expressed the aim of ensuring that its performing arts programme was right there alongside it.
A proud parent, Penny Roberts, praised the school's opening night and said: "This evening was so remarkable that it has brought St Andrew's School to a new level and set a new standard."
Dr Canterford commended the contractors who built the hall, at a cost of about $750,000, which can seat about 500.
The hall will be outfitted with a sound system and lighting, changing rooms, storage beneath the stage and other amenities.
The Bahamas has been Mike Oldfield's home for the past four years.
Perhaps the possibility of a Junkanoo-inspired rendition of Tubular Bells will be another project.
As Mike Oldfield said: "I love the Bahamas and this is now my permanent home and I never wish to leave.
"The people, society and natural beauty are unrivalled in the world and inspire my music and create wonder in my personal and spiritual self."