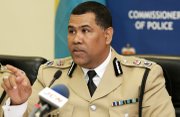 POLICE officers await feedback from the Ministries of Finance and Labour over compensation for officers on extended work shifts.
In response to criticisms leveled by the Police Staff Association, Commissioner of Police Ellison Greenslade charged that officers will remain on 12-hour work shifts "for as long as it takes".
Mr Greenslade revealed that the police force is spending more than $100,000 to feed officers on the new shift schedule, and dismissed threats of legal action from its staff association over the new shift policy.
He added that his decision was lawful, and that he would not be dictated to.
Police Staff Association Dwight Smith yesterday confirmed that the group had not yet filed legal action over concerns against the 12-hour shift.
Earlier this month, PSA chairman Smith wrote a letter to Prime Minister Perry Christie requesting a meeting to discuss compensation for officers who were put on a 12-hour shift in early September in an attempt to get crime under control.
In compliance with labour regulations, Mr Smith said the association will give Ministry of Finance has two weeks to outline what compensation the government will give officers.
Last week a group of pastors called on officers to put the good of the country above their own interests and give full support to the new 12-hour work shift policy.