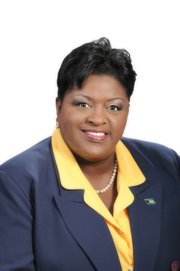 FREEPORT – Minister for Social Services Melanie Griffin said the majority of senior citizens in the Bahamas are capable of expressing themselves and should be allowed to do so – particularly on matters that affect them.
Mrs Griffin was in Grand Bahama attending a special church service at Freeport Bible Church, in celebration of Older Persons Month. The theme is "The Future We Want: What Older People Are Saying."
Thirteen-year-old Timothy Newbold, a student from the Sister Mary Patricia School, set the mood for the service with his rendition of "I can't even walk without you holding my hands."
Mrs Griffin was so impressed with his performance that she invited him back to the podium and helped him sing the song a second time.
The minister said she was pleased to be in Grand Bahama for the service.
"I trust this service and indeed other activities for the month will be meaningful and help to improve the way older persons are treated and regarded," she said.
The minister reminded the gathering that, as she had indicated in the press conference to announce plans for the month, we must beware of thinking older people are no longer able to articulate ideas for themselves and must rely on others to speak on their behalf and determine what is best for them.
"While this may be the case with some older persons due to declining health, the reality is that the majority of older persons are quite capable of expressing themselves. We must allow them to do so and to take their views into consideration particularly with matters that affect them," she said.
"I want to assure our older persons that the mandate of the Ministry of Social Services and Community Development, which has responsibility for older persons, includes raising the collective consciousness of the country to the worth of older persons, and promotion of optimum care and availability of resources to meet their need.
"We will ensure that the nation does what is right for you."